Learn how to make one of the best summertime desserts—the Chipwich. This homemade chocolate chip cookie ice cream sandwich is simply delicious and easy to make.
Take a nice long look at that photo. How good does that chocolate chip cookie ice cream sandwich look? Best of all, it is so easy to make. The homemade Chipwich is creamy vanilla ice cream sandwiched between two chocolate chip cookies and loaded with mini chocolate chips.
I loved Chipwiches when I was a kid. With two desserts in one, the Good Humor ice cream sandwich was unquestionably one of my favorites. Now as an adult, I realize how easy it is to make your own cookie ice cream sandwich, and it's ten times better. I'll tell you why.
What is a Chipwich?
A Chipwich is a dessert made with ice cream and chocolate chip cookies. Place a scoop of vanilla ice cream between two chocolate chip cookies and roll the sides in chocolate chips. Chipwich is trademarked by Crave Better Foods, LLC.
How to Make a Homemade Chipwich
Make the cookie dough according to the instructions. Roll the cookie dough into balls, place them on a cookie sheet, and press each ball of cookie dough down slightly.
Bake the cookies at 350°F for about 12 minutes. Let them cool completely.
Freeze the cookies for 20 to 30 minutes.
To assemble, take one cookie and place a scoop of ice cream on it. Place another cookie on top and press down until the ice cream reaches the sides.
Roll the sides of the ice cream sandwich in mini chocolate chips and serve immediately or freeze until ready to serve.
Helpful Tips
After rolling the cookie dough into balls, press them down slightly. This will allow the cookies to be a little flatter after they bake and cool. This helps sandwich the ice cream and make them easier to eat.
A key step in making these homemade Chipwiches is to freeze the cookies after they're done cooling. You'd think all you have to do is sandwich ice cream between freshly-baked cookies, but that's not the case.
Freezing the cookies makes them sturdier and hardens the melted chocolate chips. You need stiff cookies to sandwich the ice cream in between; otherwise, you'll have a crumbly cookie mess. Don't worry, though, the chilled cookies will maintain their deliciousness.
How to Store Ice Cream Sandwiches
Once the ice cream sandwiches are assembled, make sure you put them back in the freezer to harden and set. Then, individually wrap the Chipwiches in plastic wrap or reusable storage bags. Ice cream sandwiches will keep for up to a month in the freezer.
More Ice Cream Recipes
Ice cream is the best summer treat! Here are a few of my favorites…
Birthday ice cream sandwiches are made with rainbow sprinkles and my favorite sugar cookies.
No churn chocolate ice cream will satisfy your chocolate craving without using an ice cream maker.
Homemade strawberry ice cream is the perfect use of fresh berries this summer.
Homemade fudgesicles have a dose of nostalgia too!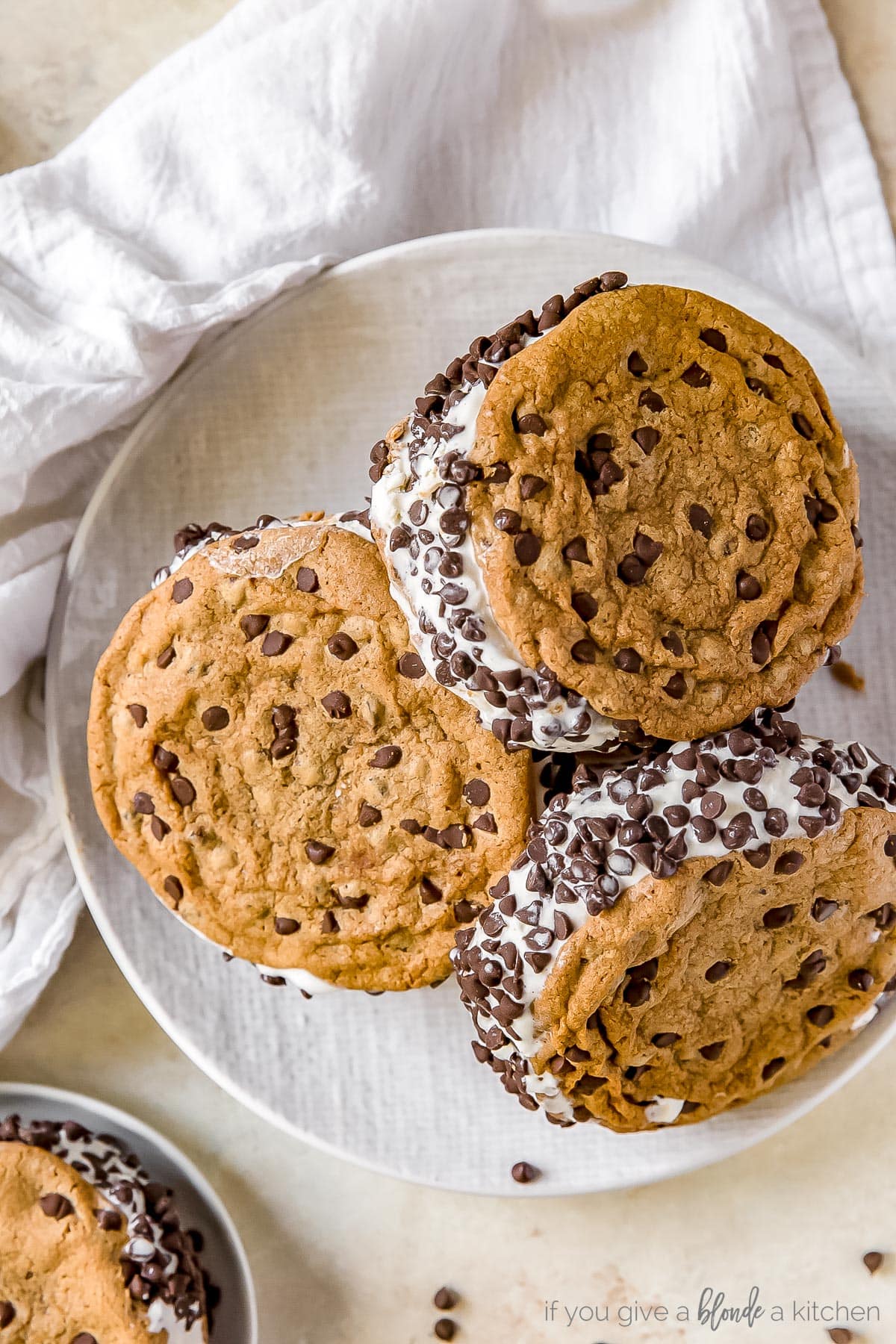 One more secret to a perfect cookie ice cream sandwich: Good quality vanilla ice cream. I'm talking slow-churned vanilla from your local ice cream shop. After all, if you're going to make a homemade Chipwich, you might as well hit it out of the ballpark, right?
I suggest wrapping them individually so they are easy to grab on a hot summer's night. If you try this recipe, be sure to tag @ifyougiveablondeakitchen on social media so I can see your homemade Chipwich!
Share This: