Below is a list of the best Cereal milk ice cream public topics compiled and compiled by our team
A couple years ago I read somewhere that cereal was becoming a thing of the past – that kids these days no longer eat it with the same obsession as my generation did. I'm not sure if what that article was claiming was true, but I really hope it isn't. In my mind, cereal will always be incredible, and I do not want to imagine a world without it.
Cereal was my go to as a child. It was my morning light, my afternoon snack, and often my dessert. My mom refused to buy us cereals with too much added sugar. Honey Nut Cheerios were about as sweet as it got in my household, but they were my favourite. She used to serve us a bowl with whole milk and a splash of cream, and it was just about the best thing ever.
I was a weird child, and I would let my crunchy little o's soak up the milk for a few minutes and get soft before finally digging in. Why? Well because like I say, I was strange and developed a bit of thing for slightly soggy cereal, but also because I knew if I let them sit for a few minutes, the milk left in my bowl would soak up the cereal goodness even more so. The cereal milk became my favourite part of a bowl of cereal.
Even as an adult, my adoration for cereal has not waivered. I love it not just for breakfast, but at any time of the day. In fact, I probably love it most as a late night snack. Whether it's soaked in creamy milk in a bowl, or dry in a cup to snack on – cereal and cereal milk is perfection.
My first taste of cereal milk ice cream was at an ice cream shop a few months ago serving Cinnamon Toast Crunch Cereal Milk Ice Cream. It was incredible; it was pure nostalgia; it was childhood in an ice cream cone. I was hooked, and I couldn't wait to try making my own with all my favourite cereals.
That's probably what I love most about this recipe – that you can totally make it your own, by using whichever cereal your childhood heart desires. Personally I am dying to try it with fruit loops and frosted flakes… Which would you make first??
For me the answer was simple… Cheerios. They are my all time cereal favourite, and they definitely did not disappoint in this recipe. I am absolutely smitten with this ice cream.
Anyhooo, I have kept you from this recipe for long enough. Here it is lovelies. Happy Ice Cream Making.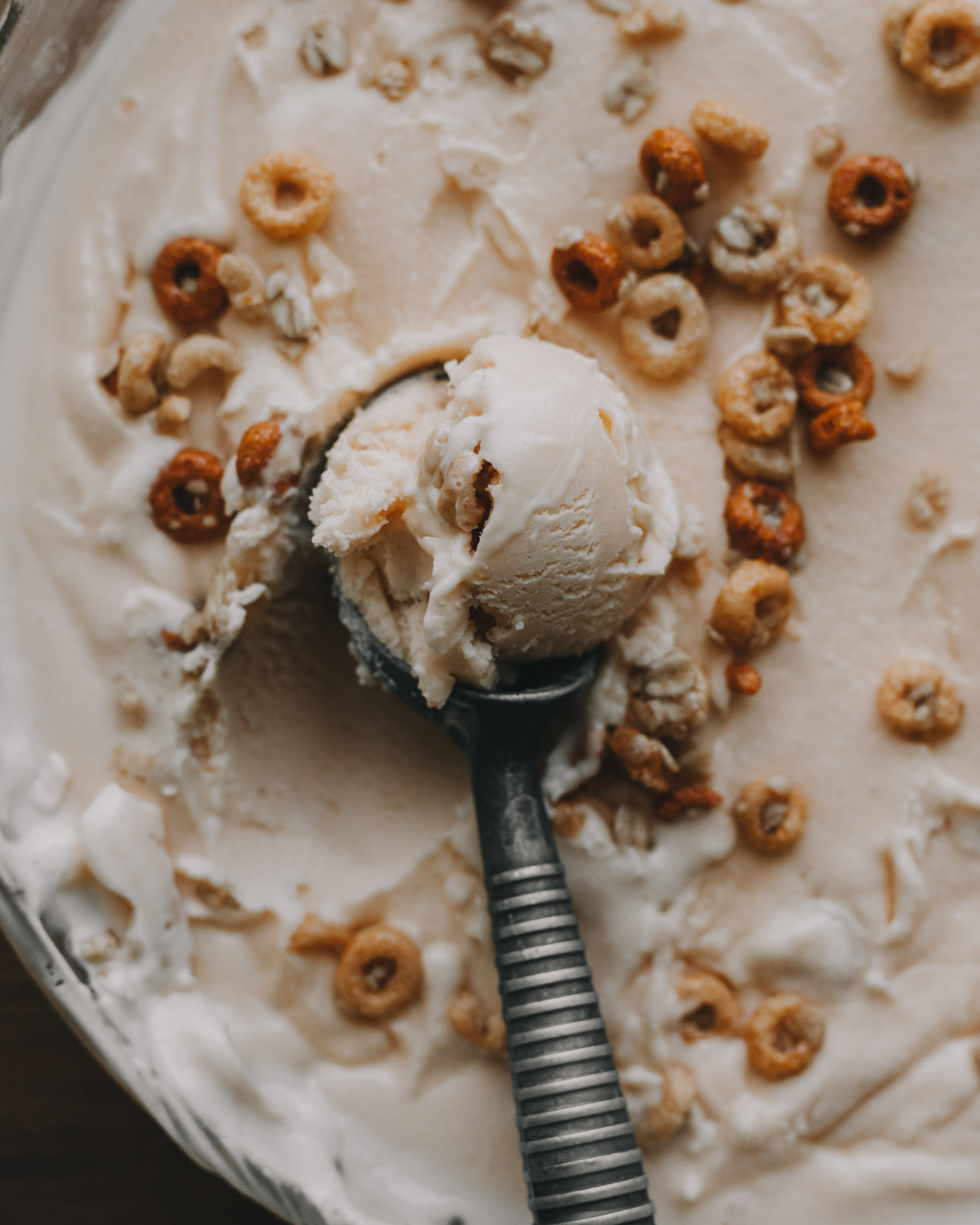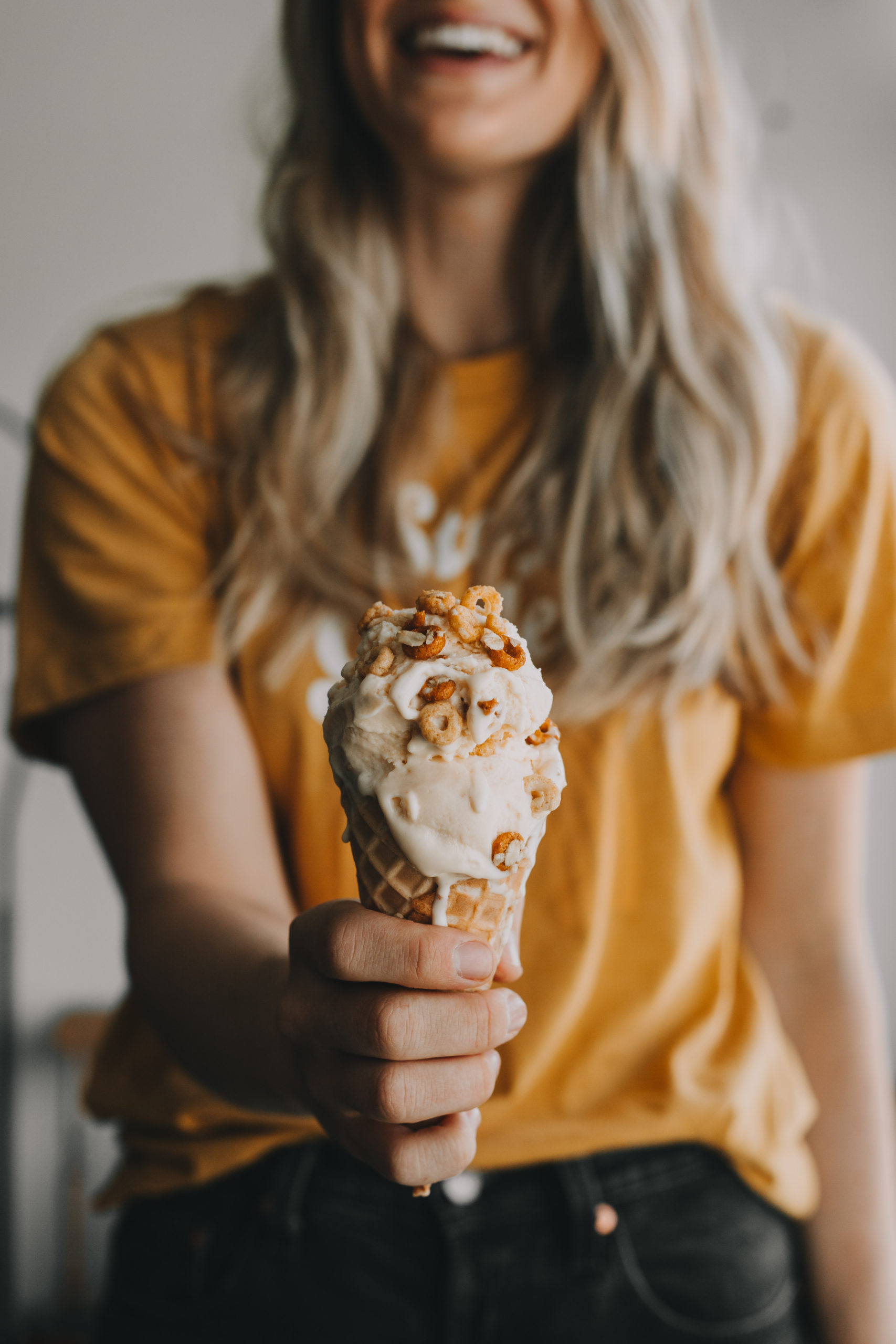 Cereal Milk Ice Cream
Things you need…
2 cups Whipping Cream 1 1/2 cups whole milk 1/2 cup Granulated Sugar5 Egg Yolks1 tsp Vanilla2 cups cereal (I used Oats and Honey Crunch Cheerios)
How to make…
In a medium bowl, combine milk, heavy cream and cereal. Cover and let sit in the fridge 3-4 hours. Once steeped, pour the milk and cereal through a sieve and into a medium sized sauce pan. Press the cheerios to get out as much liquid as possible.
In a medium heat proof glass bowl, whisk together the egg yolks and 1/3 of the granulated sugar; set aside.
In a medium saucepan over medium-high heat, combine the cereal milk and the remaining 1/3 of a cup of the granulated sugar. Stir the mixture until it just starts to bubble around the edges and then reduce to a medium heat.
Pour 1/4 of the hot cream into the beaten egg mixture, whisking constantly to temper the eggs. Slowly add another 1/4 cup of the hot cream to the egg mixture, whisking constantly. Add the egg mixture into the remaining hot cream in your sauce pan and place over medium heat.
Stir the egg & cream mixture with a heat proof spatula until it starts to thicken – this should take about 10 minutes. To test if your cream is thick enough, run your finger along the back of the spatula – if there is a trail left by your finger, the cream is ready to remove from the heat.
Pour the now custard mixture through a fine mesh strainer into a heat proof bowl. Cover the custard with plastic wrap and place in the refrigerator to chill over night or for at least 6 hours.
Once the custard has chilled, stir in the vanilla. Pour the mixture into your ice cream maker and churn according to your manufacturers instructions. I have a Cuisinart Ice Cream maker and I churned my ice cream for 30 minutes.
Once your ice cream is done churning, you can serve it as soft serve right away with a sprinkle of fresh cereal on top.
Or scoop it into a glass tupper ware or pie plate or a tin loaf baking pan. Cover with plastic wrap and set in the freezer until you are ready to serve. It will need about 2-3 hours to firm. I like to serve mine with fresh crispy cereal on top.
Enjoy!