Here are the best information about Butter pecan ice cream voted by readers and compiled and edited by our team, let's find out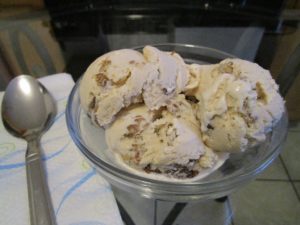 YouTube instructional video is at the bottom.
Serves 4 or more people
What you'll need
Whole Milk
Heavy Whipping Cream
3 Eggs
Sugar
Salt
6oz of Pecan halves
Vanilla Extract
Tools you'll need
Ice cream maker
Air tight container
Mesh strainer
Plastic wrap (Optional)
Preparation of ingredients
Step 1- Separate egg yolks from egg whites. Place egg yolks in a medium sized bowl. You will need 3 egg yolks for this recipe.
***Preheat fire to Medium low heat***
Step 2- Add 4 tablespoons unsalted butter. Let butter melt.
Step 3- Add 1 teaspoon salt and 1 1/2 Cups Pecan halves. Stir all ingredients together. Let saute for 5 minutes.
Step 4- Strain Pecans into a mesh strainer with a pan underneath to catch the drippings. Set aside and let cool.
***Preheat fire to Medium high heat***
Step 5- In a medium sized pot add 2 cups heavy cream and 1 cup milk. Let come to slight simmer.
Step 6- In a separate bowl with your egg yolks add 2/3 cup sugar, and 1 tablespoon vanilla extract. Stir all ingredients until mixture turns into a pale color.
Step 7- Add Milk and cream mixture into your egg yolk mixture into 3 separate intervals. Stirring constantly though the entire process.
***Preheat fire to medium low heat***
Step 8- Return your custard mixture back into your pot and stir for 6 to 8 minutes or until mixture thickens slightly. Stirring constantly through the entire process.
Step 9- Add your custard mixture into a mesh strainer with a medium sized bowl underneath it.
Note- Your strainer should have little to no egg particles in it. If you have lots of egg particles in your strainer and your custard has a strong egg odor then you've overcooked your custard.
Step 10- Add your toasted pecans. Stir for 1 minute. Once done strain your pecans into a mesh strainer with a large bowl underneath it. Place the pecans in a separate bowl.
Step 11- Optional- Add plastic wrap on top of your custard. This will prevent your custard from getting that thick skin on the top of it.
Step 12- Place custard and pecans into your fridge for 4 hours. Overnight recommended.
IMPORTANT NOTE- If your ice cream maker calls for you to place the base of your ice cream maker in the freezer you can do that now. For best results place it in your freezer for 24 to 48 hours.
Step 13- Turn on your ice cream maker. Make sure you follow the instructions given on your ice cream makers manual regarding preparing your ice cream.
Step 14- Add your custard into your ice cream maker. Let churn for 10 minutes.
Step 15- Add the toasted pecans. Let churn for 10 minutes. Once done Ice cream should be very thick.
Step 16- Transfer your ice cream into your air tight container and place into your freezer.
For soft serve ice cream keep ice cream in freezer for 2 to 3 hours before serving.
For more firm ice cream keep ice cream in freezer for 6 to 8 hours. Overnight preferred.
Serve cold and enjoy!
YouTube instructional video