Here are the top best Biscoff cookie ice cream voted by users and compiled by us, invite you to learn together
Easy Four Ingredient No-Churn Biscoff Ice Cream! So Incredibly Easy, and So Incredibly Delicious!
So, THIS RECIPE IS EPIC. I have technically done this recipe before on my blog, but I decided that an all new post would be better. I didn't even put Biscoff in the title of the old version, and the photos are quite frankly a little shocking… so this refresh happened.
I, obviously, utterly adore all things Biscoff. Most recently I posted my Biscoff Drip Cake recipe which so many of you have made already (yay!) and my Biscoff Brownies have been going mental online, so things are all Biscoff mad right now.
As it's peak summer, the temperatures are hot, and we all need cooling down a little, I thought it was high time I re-made this recipe into the best it could be. And all it takes? Four ingredients. Technically only three if you don't want to include the biscuit, but who wouldn't?!
No-Churn Ice Creams are a wonderful invention – and the basis of them all is Condensed Milk and Cream. As I'm in the UK, I use Double Cream, but elsewhere this would be Heavy Cream in America for example! (Always google your alternative if you aren't sure of an ingredient!)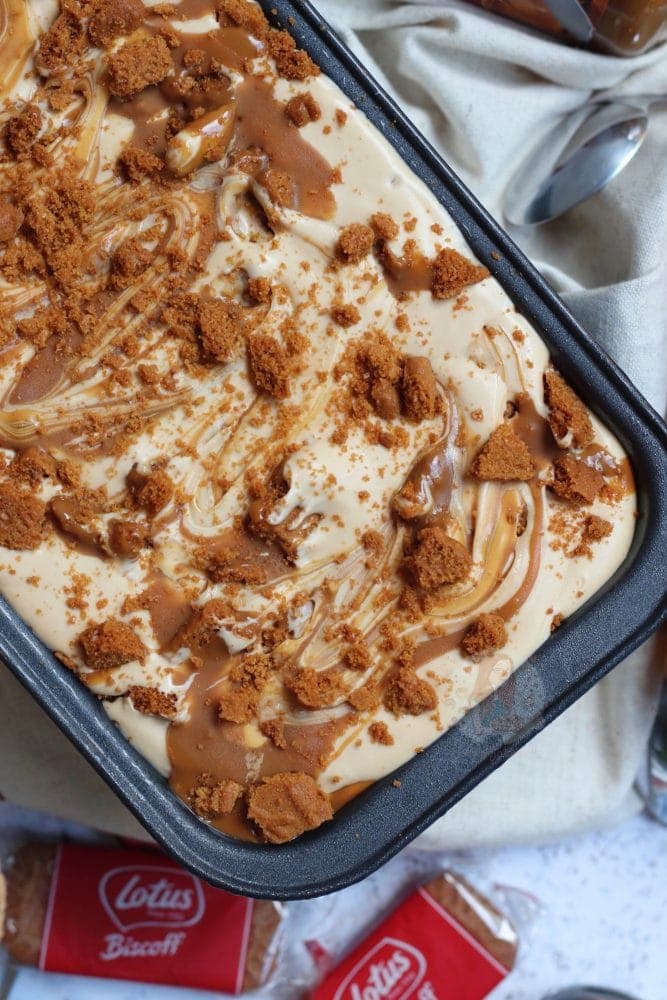 Those two ingredients would make a happy and very simple Ice Cream. It won't taste of much, but they would make one. If I wanted just a Vanilla Ice Cream, I would add some vanilla extract to it! So easy.
Anyway… back to Biscoff. I decided when re-making this recipe to take it to a whole new level, and that meant using even more Biscoff then last time. More spread AND the biscuits. Hello Biscoff spread and biscuit heaaaaven. Incredible.
The simple thing of this is, you add the Condensed Milk, Cream and the first lot of Biscoff to a bowl, and whisk it. It may look a little weird at first whilst the Biscoff is breaking down into the mixture it look like flecks of Biscoff, but keep on whisking and it'll come back! It just needs to be slightly thick, and smooth.
I use my Kitchenaid Stand Mixer with the Whisk Attachment as it's the easiest for me – but you can easily just use a large bowl, and an electric whisk! If you wanted to try this but don't have any form of electric whisk, you could try whipping the cream on its own, folding through the condensed milk, and melting the Biscoff slightly and folding that through.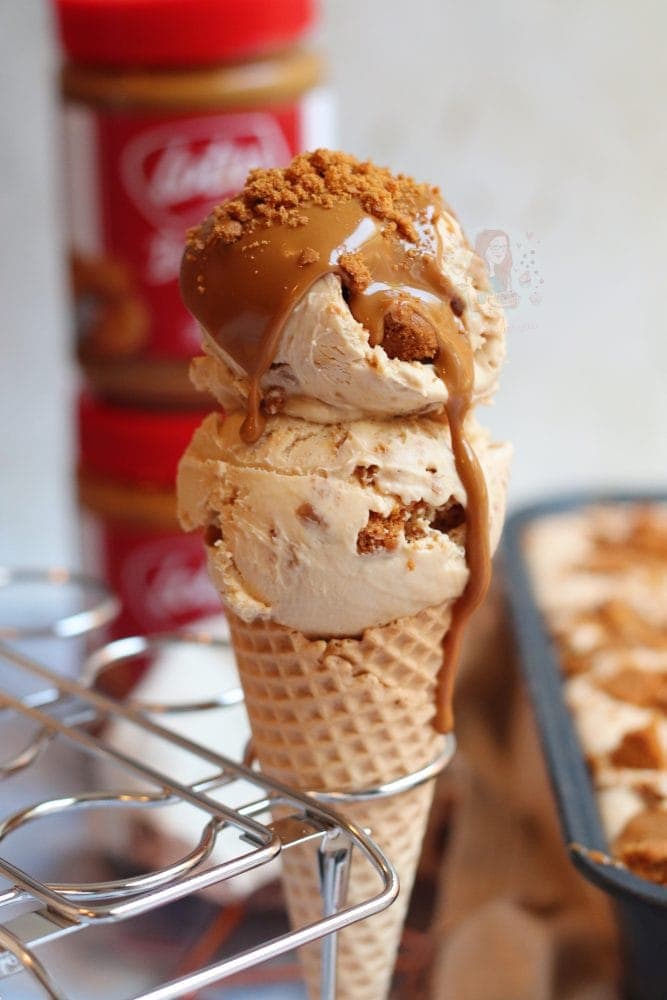 To take this to the next level, I then used even more Biscoff spread to swirl through the mixture, and added some crushed biscuits. I do this in layers to make sure that it's all evenly spread – add in some ice cream, and some melted spread and biscuits and swirl. Add in more ice cream, spread and biscuits and swirl etc!
I use a large loaf tin for this as I think it looks nice in the photos, and I weirdly seem to have an abundance of loaf tins in my house, but you can use any form of tub or container that you don't mind sticking in the freezer till you've eaten all the ice cream!
I simply served mine in a cone, with an extra drizzle of sauce and some crushed biscuits and savoured every mouthful. SO TASTY. Enjoy! x
ENJOY!
Find my other Recipes on my Recipes Page!
You can find me on:InstagramFacebookPinterestTwitterYoutube
J x
© Jane's Patisserie. All images & content are copyright protected. Do not use my images without prior permission. If you want to republish this recipe, please re-write the recipe in your own words and credit me, or link back to this post for the recipe.