Indulge in a Sweet Delight
Long Island is a dream destination for ice cream lovers. From classic flavors to unique creations, there is something to satisfy every sweet tooth. Whether you're in the mood for a simple scoop or a decadent sundae, these top-notch ice cream parlors have got you covered. Get ready to embark on a frozen treat adventure that will leave you craving for more!
Five Pennies Creamery – Rockville Centre
Step into Five Pennies Creamery and prepare to be amazed. Since 2010, owner Dan Levine has been crafting an impressive lineup of 130 flavors that will tantalize your taste buds. From the whimsical blue-hued Smurf's ice cream with marshmallows to the timeless cookies and cream, the options are endless. You can enjoy your favorite flavors in a milkshake, sundae, or even a banana split. Don't forget to try their mouthwatering ice cream pies and custom ice cream cakes for a truly indulgent experience.
Hicksville Sweet Shop – Hicksville
For a taste of history, head over to the Hicksville Sweet Shop. Originally an ice cream bar that opened in 1925, this charming restaurant takes pride in making their own ice cream, sauces, syrups, and molded chocolates. With every bite, you'll feel the nostalgia and tradition that has been passed down through generations. Treat yourself to a classic flavor or venture into their delightful specialty creations.
Krisch's Restaurant & Ice Cream Parlour – Massapequa
Transport yourself back to the 1950s with a visit to Krisch's Restaurant & Ice Cream Parlour. This retro diner offers a selection of 30 homemade ice cream flavors that are sure to please any sweet tooth. Whether you're stopping by for breakfast, lunch, or dinner, be sure to try their famous blueberry pancakes along with your ice cream indulgence.
Itgen's – Valley Stream
Since 1967, Itgen's has been a beloved fixture in Long Island. This charming spot not only serves delicious diner-style food but also offers classic candy and homemade ice cream. Every element, from the whipped cream to the syrups, is made from scratch, ensuring a truly authentic and unforgettable ice cream experience.
Sundae Donuts – Multiple Locations
Prepare for a sugar overload at Sundae Donuts. This local confectionary chain will satisfy your cravings with a wide range of treats to choose from. Indulge in their delectable ice cream, doughnuts, and even edible cookie dough. For the ultimate sweet treat, try one of their over-the-top creations that combine all these delights into one irresistible masterpiece.
Sweet Treats on the Wharf – Port Washington
If you want to enjoy your ice cream with a view, look no further than Sweet Treats on the Wharf. Located in Port Washington, this delightful spot offers homemade ice cream, frozen yogurt, and shaved ice. With a wide variety of lactose-free, kosher, and gluten-free options, there is something for everyone. Treat yourself to a decadent soft-serve flavor in a cookie cone for the ultimate indulgence.
Ice Cream Parlors in Suffolk County and the East End
If you find yourself in Suffolk County or on the East End of Long Island, don't miss out on these incredible ice cream parlors.
Bridgehampton Candy Kitchen – Bridgehampton
Established in 1925, Bridgehampton Candy Kitchen is a true gem. While they offer breakfast all day, it's their sweet treats made from local, in-season fruit that truly steal the show. Indulge in their delightful ice cream creations and experience the flavors of the region.
Lics Ice Cream – Northport
For more than 25 years, Lics Ice Cream has been a beloved spot in Northport. It's not just the homemade scoops of ice cream that make this place special, but also their impressive variety. From gelato and ices to vegan scoops and frozen yogurt, there is something for everyone on their menu.
Coyle's Homemade Ice Cream – Bay Shore, Islip
Coyle's has been a staple in the ice cream scene since 1985. With 60 flavors of homemade ice cream to choose from, you're guaranteed to find a favorite. Enjoy a classic Brooklyn egg cream or indulge in a sticky finger sundae while soaking up the vintage atmosphere.
Magic Fountain – Mattituck
At Magic Fountain, creativity knows no bounds. Located on Long Island's North Fork, this ice cream parlor offers a rotating selection of flavors that utilize local ingredients. Have you ever tried coconut avocado or goat cheese ice cream? Well, now is your chance!
Auntie Moe's Frozen Custard – Northport
Auntie Moe's is all about frozen custard, the creamier cousin of ice cream. With a new daily flavor posted on their regularly updated Facebook page, you'll always find something new to try. Don't forget to explore their selection of sundaes, cookies, cookie sandwiches, pies, and pints.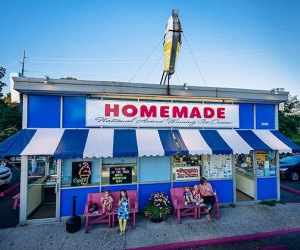 Snowflake Ice Cream Shoppe – Riverhead
Snowflake Ice Cream Shoppe is a true institution in Riverhead. Their hard ice creams are prepared in-house by master makers, ensuring the highest quality and flavor. From unique creations like Black Magic Woman to classics like pistachio, there is a flavor for every palate.
McNulty's Ice Cream Parlor – Miller Place
Since 1991, McNulty's has been delighting locals with their selection of more than 40 homemade ice cream flavors and Italian ices. With their wide-ranging sundae menu, you can enjoy a sweet treat like the Cinderella sundae or even a baseball hat sundae that will transport you to the ballpark.
Old Fashioned Ice Cream – West Babylon
Step into Old Fashioned Ice Cream and be greeted by the aroma of homemade goodness. With over 30 flavors of ice cream, as well as frozen yogurt and Italian ices, there is always something delightful to try. Check their weekly and seasonal flavors to see if your favorite is available.
Northport Sweet Shop – Northport
Northport Sweet Shop is a local favorite that will remind you of the joy of being a kid in a candy store. Indulge in their homemade hard ice cream or enjoy old-school treats like chocolate egg creams. Pair your sweet treats with their griddle classics for a truly satisfying experience.
Ice Cream Social – Commack
Ice Cream Social is where artistry meets ice cream. Chef Rob McCue and his wife, Christine, bring their culinary expertise to the ice cream parlor scene with 64 flavors of handmade ice cream and soft-serve. Don't miss out on their Dole Whip flavor or their beautifully decorated cakes and homemade chocolates.
Carla Marla's Ice Cream Parlor – Bellport
At Carla Marla's, ice cream is not just for humans. This seasonal spot serves Frosty Paws, a special treat for your four-legged friends. Of course, they also offer ice cream, sorbet, and candy for the whole family to enjoy.
In Conclusion
Long Island is home to some of the best ice cream spots in the world. From the traditional to the extraordinary, these parlors offer a range of delicious flavors and sweet treats that will leave you craving more. So why wait? Dive into a cone, indulge in a sundae, or enjoy a milkshake at one of these delightful ice cream parlors. Visit Ice Cream to discover more amazing ice cream destinations.