Mattheessen's – Unleash Your Flavor Fantasy
Location: Multiple locations, two on Duval Street and one on Greene Street
Website: Mattheessen's
Hours: Vary by location, check their website for specific hours.
At Mattheessen's, prepare to have your ice cream dreams come true. Renowned for their variety of sweet homemade treats, as well as fudge and mouthwatering cookies, Mattheessen's is a must-visit spot on the island.
A satisfied customer, Justa Foodie, left this review on Google: "Mattheesen's lured me in with their key lime ice cream. Oh boy, it was a sweet deliciousness! Perfectly located close to the Bight for your ice cream cravings! Highly recommend."
Mattheessen's offers a symphony of flavors, each meticulously handcrafted in small batches to ensure unparalleled freshness and quality. With an extensive menu of 23 tantalizing flavors, it might be hard to choose. But fear not! The friendly staff is more than happy to create a customized scoop with a medley of flavors, making each visit a unique adventure. Don't forget to try their giant cookies, including the legendary kitchen sink, sugar, and chocolate chip varieties. Accompany your ice cream with a side of smoothies, floats, or coffees, and let the artistry of Mattheessen's bring your ice cream experience to life.
Flamingo Crossing – Indulge in Tropical Paradise
Location: 1105 Duval Street
Facebook Page: Flamingo Crossing Ice Cream
Hours: Open daily from 11 am to 11 pm
Join the fun at Flamingo Crossing, a family-run parlor that has been an iconic presence in Key West since 1987. Just a few blocks away from our Key West Beach Resort on Duval Street, this whimsical establishment offers a delightful blend of classic and tropical flavors, ensuring everyone finds their frozen bliss.
Ramona Bartuso shared this review on Google: "Late-night sweet treat at Flamingo Crossing Ice Cream in Key West! Waffle cones tasted super fresh! Nice crunch and made just right. Both cookies and cream and guava flavors were freaking delicious!!! This family-owned business had so many other indulging flavors, too! Will be back for sure!"
Embrace the journey of flavor exploration at Flamingo Crossing. With every bite, you'll taste the love and dedication that goes into each batch of their homemade ice cream. By using all-natural ingredients, Flamingo Crossing captures the true essence of Key West. Take a seat at their outdoor picnic tables, soak in the delightful ambiance, and savor the magic of their frozen creations. Whether you opt for a classic favorite or venture into uncharted flavor territories, Flamingo Crossing guarantees an unforgettable ice cream experience.
Wicked Lick – Where Frozen Fantasies Come to Life
Location: 335C Duval Street
Website: Wicked Lick
Hours: Open daily from 11 am to 11 pm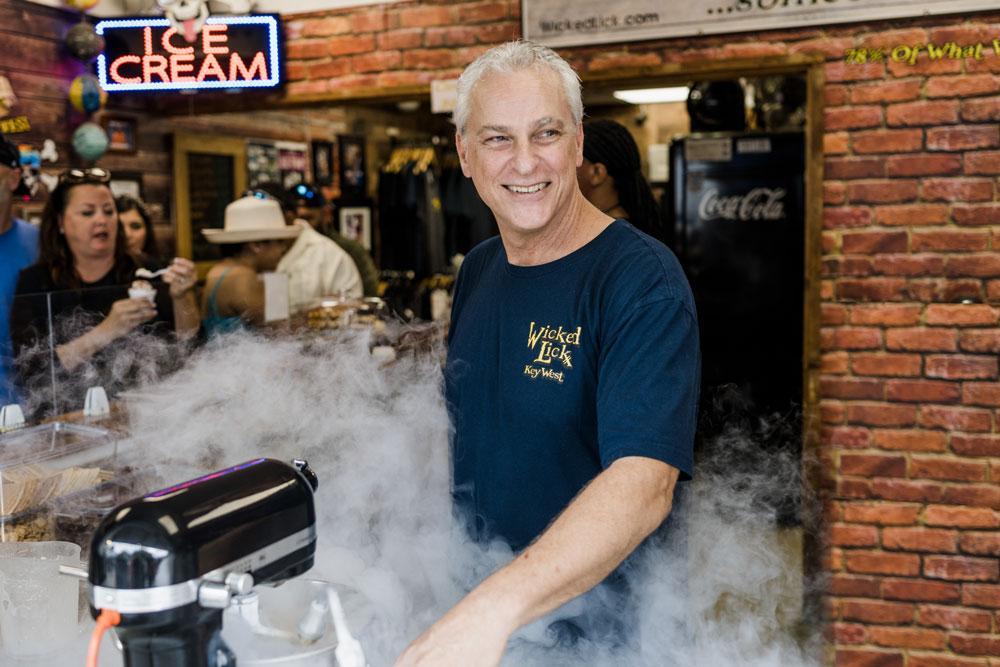 Prepare to be amazed as you step into the captivating world of Wicked Lick. Located on Duval Street, this innovative ice cream shop combines scientific precision with creative flair to deliver an ice cream experience like no other.
Zachary Ribner shared this review on Google: "Never have I had ice cream that was chilled and created right in front of me! The coconut agave ice cream was delightfully creamy, light, and the perfect amount. Not overpoweringly sweet like some other ice creams, perfect for cooling down on a hot afternoon!"
Wicked Lick enchants its customers by crafting ice cream using liquid nitrogen. This process creates an exceptionally smooth and creamy texture without the need for artificial additives. By using all-natural cream, pure cane sugar, and fresh ingredients, Wicked Lick showcases vibrant flavors that will ignite your taste buds. Step into their whimsical world of frozen delights and let your senses run wild with their myriad of unique flavors and combinations. With dairy-free options available, Wicked Lick ensures that everyone can experience the joy of their ice cream magic.
Rooster Treats Ice Cream & Mini Donuts – A Fusion of Delight
Location: 1327 Simonton Street (corner of Simonton and South Streets)
Website: Rooster Treats
Hours: Open daily from 12 pm to 11 pm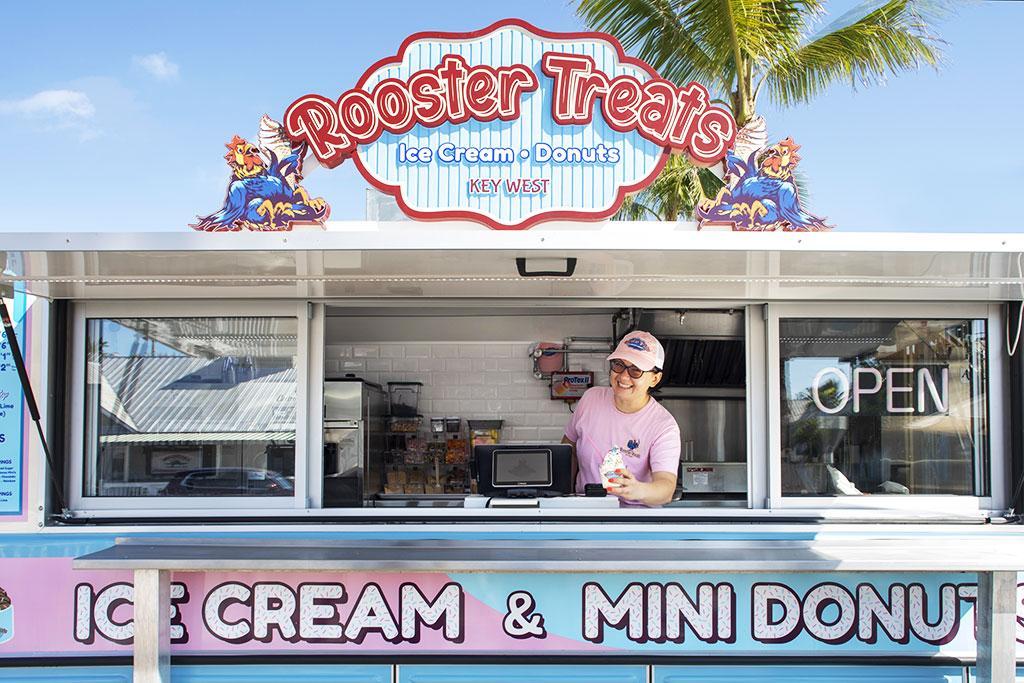 If you're in the mood for a delightful combination of ice cream and donuts, Rooster Treats Ice Cream and Mini Donuts is the place to go. Conveniently located across the street from our Key West Beach Resort, this retro oasis offers homemade soft-serve ice cream and freshly made mini donuts with a wide array of mouthwatering toppings.
Adventure49843367666 on TripAdvisor shared their delightful experience: "Enjoyed an evening with family and friends eating ice cream sundaes and donuts. Definitely a must-do on a hot day!"
Rooster Treats encourages you to let your imagination run wild by choosing from their extensive selection of sauces and toppings. Whether you prefer a soft-serve key lime ice cream drizzled with chocolate sauce and topped with a crushed graham cracker crust or hot mini donuts topped with pina colada icing and dusted with coconut flakes, the possibilities are endless. Indulge in the rich, creamy homemade flavors of their soft-serve ice cream or savor the mouthwatering sweetness of their hot mini donuts. Rooster Treats has something to satisfy every sweet craving.
Ice cream is totally an acceptable meal at this point, don't you think? #somolife