Ben & Jerry's Cherry Garcia Ice Cream is packed with grated chocolate and fresh cherries! Perfect for all the chocolate and cherry lovers, especially during the dog days of summer!
We do love Ben & Jerry's ice cream at our house. And furthermore, we've taken the Ben & Jerry's Factory Tour in Waterbury, Vermont. (More than once I confess.) It's quite the fun destination.
The best part comes at the end, after the movie and walk-through factory tour. Because at the end you get free ice cream samples of whatever ice cream flavor they're currently manufacturing! So woo hoo!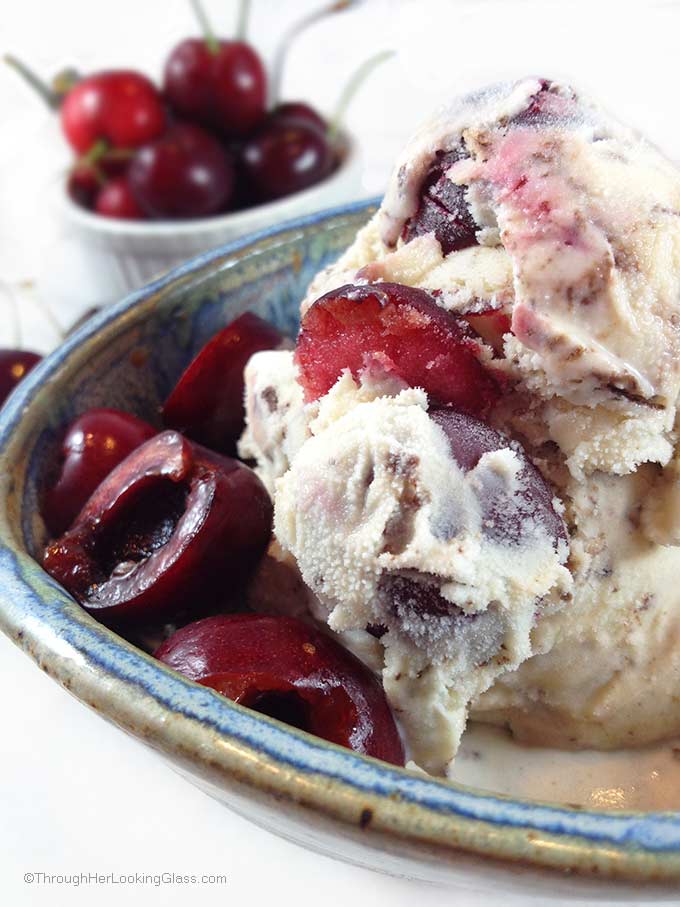 So one day we're up at Ben & Jerry's doing the tour and eating the awesome ice-cream. (I believe the flavor that day was Boston Cream Pie — yeah and uh huh!)
And I come upon the Ben & Jerry's Homemade Ice Cream & Dessert Book in the gift shop. Well I'm no fool, and it isn't long before they're ringing me up at the register. (Ben & Jerry, they're no fools either – Cha-ching$ Cha-ching$.)
Also read: Cherry Garcia Ice Cream – Princess Pinky Girl
All Ben & Jerry's best ice cream secrets are now tucked in a little brown bag under my arm as I gleefully wend my way home to New Hampshire! We sure have enjoyed this book through the years, and gotten more than our money's worth!
In fact, our family tradition is to tote this book and our ice-cream maker along on summer vacation so we can try out new flavors.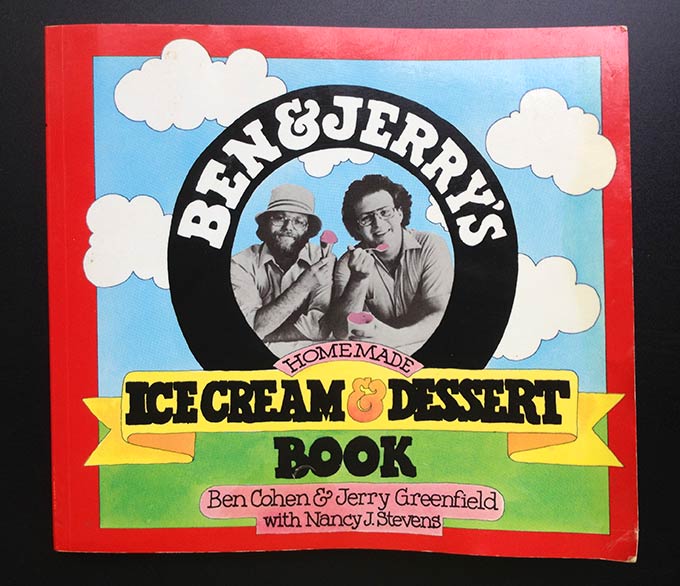 My Charlie (10) spends hours poring over this book. He has a lotta of ideas, dreams about what flavors we should make next. (Also recipe improvements for Ben & Jerry. HA!)
I'm chomping at the bit to tell you about the delicious flavors we've tried. The wonderful kinds we still want to make. The funky names of the current Ben & Jerry fabulous ice cream flavors. I could chat on this topic ad infitum. (Can you tell?) Trust me, we'll just have to revisit this. A blog field trip to Ben & Jerry's?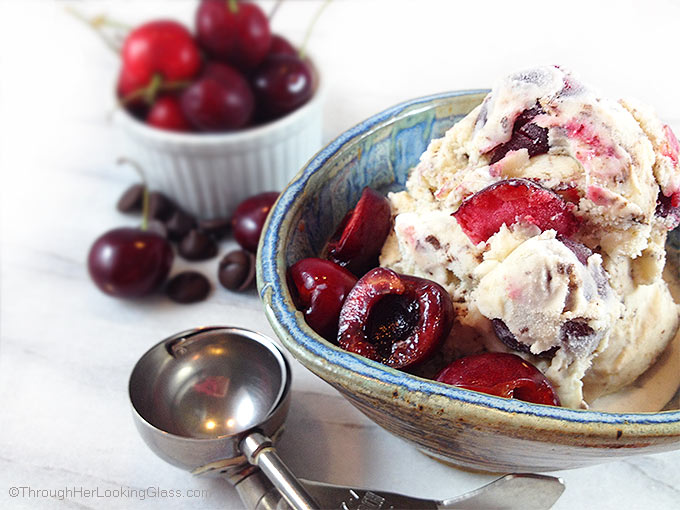 Also read: Ben and Jerry's Cherry Garcia Ice Cream – CopyKat
But Bing cherries are in season right now, and since I'm a fresh cherry and chocolate lover, I'm sharing this delicious recipe for Ben & Jerry's Cherry Garcia Ice Cream. I've always wanted to make this particular recipe and that's the fun of what I do. Now I have an excuse!
I really must do this for the blog, honey.
Giggle. (Of course no one's exactly complaining around here….)
So I wanted you to see this ice cream up close. See those yummy flecks of grated dark chocolate? Yeah, this recipe calls for a Hershey's Special Dark Chocolate candy bar.
And here's what the Ben & Jerry's recipe book says regarding how they named this ice cream flavor.
" A couple of Dead Heads in Maine sent us a postcard with a name for a new flavor. They left the recipe up to us. We got to work with some fresh bing cherries and threw in the chocolate flakes as a last minute inspiration. At last report, both Jerry Garcia and his wife Carolyn are crazy about it."
Also read: Homemade Cherry Garcia Ice Cream – Served From Scratch
So there you have it.
You can serve Ben & Jerry's Cherry Garcia Ice Cream soft with a spoon, straight from the ice cream maker.
Or freeze it hard for 6-8 hours and serve on a sugar or waffle cone like we do. So without further ado, the Ben & Jerry's Cherry Garcia Ice Cream recipe. Enjoy every delicious bite!
*UPDATE 5/24/16 – I've updated this recipe from the original Ben & Jerry's Ice Cream recipe book to include cooking the milk, cream and eggs into a custard before freezing. This is to reduce the possibility of salmonella. You can make it without cooking the custard first if you're not concerned about consuming raw eggs. I've made it both ways.
So what's your favorite Ben & Jerry's ice cream? I'm partial to Coffee Heath Crunch.
You may also enjoy: Peppermint Stick Ice Cream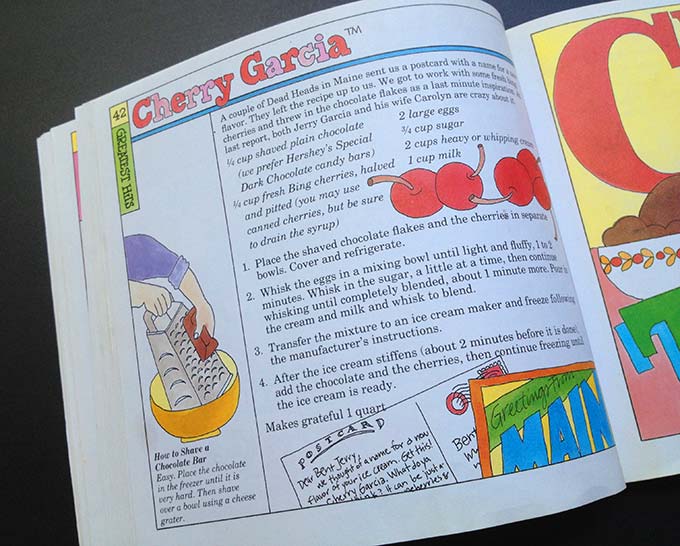 For more information, please see more information about Cherry garcia ice cream recipe