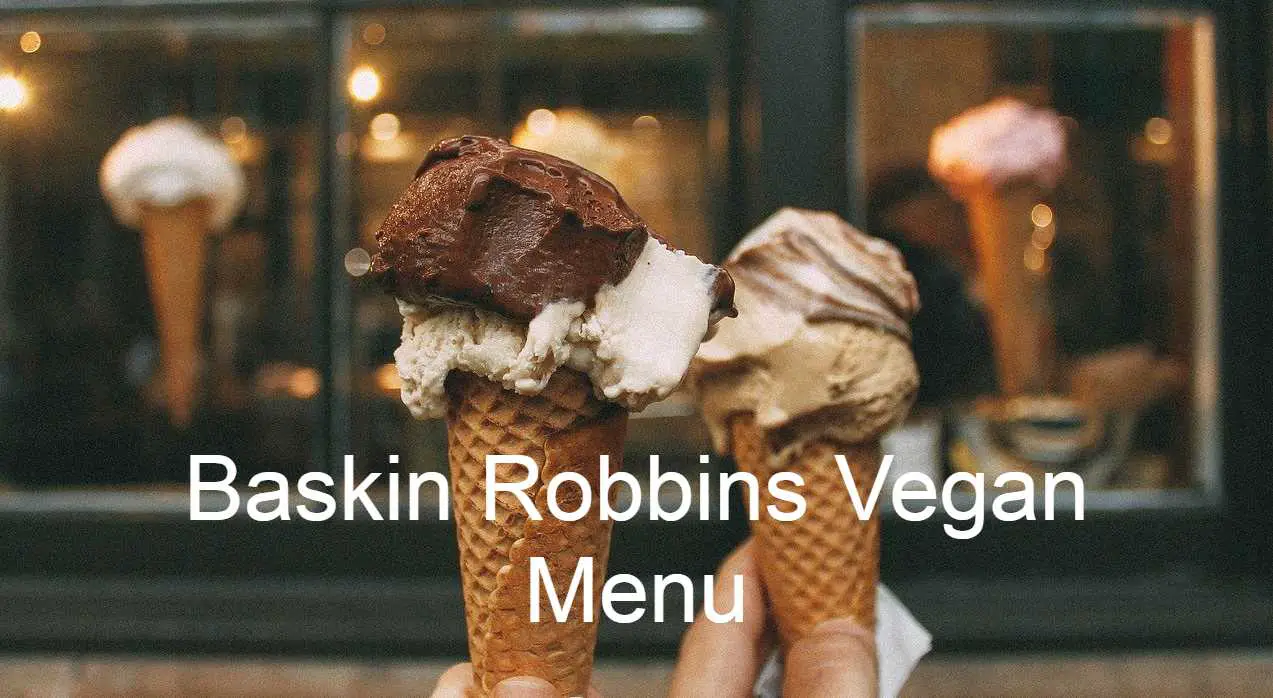 Looking for Baskin Robbins Vegan menu? We have researched the menu and identified some of the items that are vegan and dairy-free.
After working with PETA, Baskin-Robbins launched dairy-free ice creams options in 2019. This is great news for vegans and people who are seeking plant based alternatives. Plant based options can be good for you, the animals and the environment, so next time you are at a Baskin Robbins, give it a try.
Baskin Robbins Vegan Menu
Ice Creams
Chocolate Extreme – An extreme explosion of chocolate with semi- sweet chocolate chips and a chocolate fudge ribbon. This was launched in August 2019.
Chocolate Chip Cookie Dough – A dream come true for cookie-dough lovers with cookie pieces, chocolate chunks, and chocolate ribbons. This was launched in August 2019.
Coffee Caramel Chunk – Love caramel, you will love this flavor, it comes with an espresso base, chocolate chunks, and a caramel ribbon. This was launched in November 2019.
Ices
Daiquiri Ice – If you put your ear up to this summery lime ice with a splash of rum flavoring, you can hear the ocean.Horchata Ice – The traditional drink is now a refreshingly indulgent scoop with cinnamon horchata flavored ice swirled with coconut cream.
Miami Vice Sorbet – Take a vacation with this strawberry daiquiri and piña colada flavored sorbet sensation- one scoop and you'll be sitting at the swim-up bar!
Raspberry Sorbet – Delicious raspberries from the Pacific coast make this sorbet light and refreshing.Watermelon Splash Ice – Refreshing watermelon flavored ice with candy "seeds". No spitting, please!
Cones
Drinks
Mango Fruit Blast – Enjoy a taste of the tropics with yummy mangoes blended with ice for a refreshing trip to paradise.
Strawberry Citrus Blast – Sweet Strawberry is combined with tangy citrus and ice for perfect refreshment.
Tropical Fruit Blast – The tropical taste of guava, orange and passion fruit blended with ice. A refreshing exotic escape.
Baskin-Robbins Dairy-Free Toppings
REESE'S® Peanut Butter Sauce
Chocolate Syrup
Maraschino Cherries
Chopped Almonds
There may be more options available.
"The Baskin-Robbins culinary team has been hard at work on our non-dairy flavors for over two years. It was important for us to take the time to get it right," said Jeanne Bolger, Director of Research and Development, Baskin-Robbins. "Both flavors are so smooth and indulgent, and the final product delivers the incredible quality that our customers have come to expect from any Baskin-Robbins ice cream. We're very proud of the result." source.
Baskin Robbins Vegan FAQ
Are Baskin Robbins cones vegan?
The Cake Cones are vegan. Go ahead and enjoy them. However, the Sugar Cones contain honey and the Waffle Cones (Fresh-Baked Waffle Cone & Fancy Waffle Cone with Sprinkles) contain milk and egg. You can always enjoy your treat in a cup :).
Cake Cones
Sugar Cones
What is vegan at Baskin Robbins?
Also read: What Are The Best Vegetarian And Vegan Options At Baskin Robbins
There are three ice cream flavors you can enjoy at Baskin-Robbins which are vegan. There are also a couple of sorbet options to pick from. These are good options if you are seeking plan based options or of you are lactose intolerant.
Chocolate Extreme
Chocolate Chip Cookie Dough
Coffee Caramel Chunk
Miami Vice Sorbet
Raspberry Sorbet
What is in Baskin Robbins non-dairy ice cream?
The ice creams are so yummy, it is hard to imagine why you would need dairy in an ice cream when ice cream can be so delicious without it. The base of these ice cream is coconut oil and almond butter. Check out the complete ingredients below.
What are the ingredients in Baskin Robbins vegan ice cream?
Chocolate Extreme
Chocolate Chip Cookie Dough
Coffee Caramel Chunk
*Baskin-Robbins definition of a vegan menu items is a food or beverage with no animal sources: no meat, fish, shellfish, milk, egg or honey products, and no enzymes and rennet from animal sources. All of Baskin-Robbins menu items (vegan and non-vegan) are prepared in the same area. Baskin-Robbins cannot guarantee that there will be no cross-contact between products or ingredients.
Does Baskin Robbins have dairy-free options?
Yes, there are several dairy-free options to choose from at Baskin-Robbins. From ice cream to sorbet, you will find flavors that will appeal to your taste buds. There are dairy-free cone options also available. Cake cones are vegan and sugar Cones are diary-free but contain honey, so are not vegan.
Do all Baskin Robbins have vegan ice cream?
Yes, all Baskin-Robbins in United States carry vegan flavors. However to be sure of they are instock, please call ahead of time to avoid surprises.
Is Baskin Robbins Rainbow Sherbet dairy free?
Also read: Baskin-Robbins Vegan Options 2022: Is There Dairy-Free Ice Cream?
No. The Rainbow Sherbet contains dairy in the form of nonfat milk and cream.
For a complete list of vegan menus on our site, see here. You can visit Baskin Robbins here. Menu selections can vary by location. Always check with location before placing an order if the item has any allergens or meets your dietary needs and restrictions. We are not associated with the restaurant.
Recommended Options for Vegans At Baskin Robbins
It is good to see that there are more than a few options available. This has quickly become one of my favorite dessert places and I am hoping the success of these vegan flavor will inspire then to add more options, may be even have vegan alternatives for all their flavors! My favorite vegan order is Chocolate Extreme with a Cake cone.
How To Order Vegan Food at Baskin Robbins? Does Baskin Robbins Have a Vegan Menu?
It is getting easier to find vegan options these days and Baskin Robbins is no different. However, menu items differ from location to location. These are some handy tips to use at Baskin Robbins to place a vegan order even if they
See the menu and look for items marked as Vegan
One of the best ways to order vegan at Baskin Robbins is to look at the menu and see if any items have been clearly identified as vegan. Typically, they are marked with a "V".
Ask the server at Baskin Robbins
At times, you will find restaurants and food chains that may carry items that are vegan but may not be identified o the menu. IN such cases servers may know of these items and can help you place an order.
Also read: Best Vegan Options at Baskin Robbins (Ice Cream, Toppings
Ask for nutritional information to see ingredients
Baskin Robbins typically has nutritional information available with them and will show it to you on request. Other than finding how many calories and the macro split, it will also show the ingredients used to prepare the item. You can review the list of ingredients and identify vegan items. You may also be able to do this by visiting Baskin Robbins's website.
Request modification to menu items
If you do not see any existing items on the menu that are vegan, ask the server at Baskin Robbins to see if they can make changes to any items to make them Vegan. Many places now carry plant-based meat replacement or can leave out the non-vegan items from the dish to make it vegan compatible.
Look for vegetarian items on the menu at Baskin Robbins
If there are no Vegan items, your best bet may be to look at a vegetarian item and ask to leave out any non-vegan items such as any dairy products and eggs. In most cases, vegetarian items are the most easily modified to make them vegan.
What did you order? Did you like it?
Want to checkout the complete menu of Baskins Robbins, see here. Looking for an alternative to Baskin-Robbins, see Ben & Jerry's and Dairy Queen.
For more information, please see more information about Does baskin robbins have dairy free ice cream