Introduction
If you're a fan of rich, creamy, and utterly indulgent ice cream, then you're going to love this vanilla bean Custard Ice Cream recipe. Made with a traditional French-style ice cream base, this dessert is a true delight for your taste buds. Whether you have an ice cream maker or prefer a no-churn method, we've got you covered!
The Allure of Vanilla Custard Ice Cream
It's no surprise that vanilla ice cream consistently ranks as America's favorite flavor. The warm and rich flavor of vanilla complements the creamy sweetness of frozen custard perfectly. This French-style Vanilla Custard Ice Cream recipe is bursting with real vanilla flavor, making it an absolute winner. You can even enjoy a scoop on top of a slice of triple berry pie for a truly decadent treat.
If you can't get enough of French-style ice creams, you should also try our French Silk Ice Cream and Lemon Custard Ice Cream recipes.
Why You'll Fall in Love with This Custard Ice Cream Recipe
When it comes to ice cream, homemade always takes the cake. Our Custard Ice Cream beats any store-bought tub by a mile, both in terms of flavor and texture. Not only does it taste better, but it's also free from chemicals, preservatives, and artificial colors. We'll guide you through the process step by step to ensure a perfect batch every time. With just a few hours of prep, you'll be savoring your homemade custard in no time.
Ingredients for Homemade Custard Ice Cream
Egg Yolks: These create the creamy base of our ice cream custard.
Sugar: Adds sweetness and contributes to the perfect texture.
Vanilla Bean: Infuses the ice cream with intense vanilla flavor.
Whole Milk: Combines with the egg yolks and sugar to create a luscious custard base.
Salt: Balances the sweetness and enhances the overall taste.
Heavy Cream: Ensures a rich and creamy texture.
Vanilla Extract: Elevates the vanilla flavor to new heights.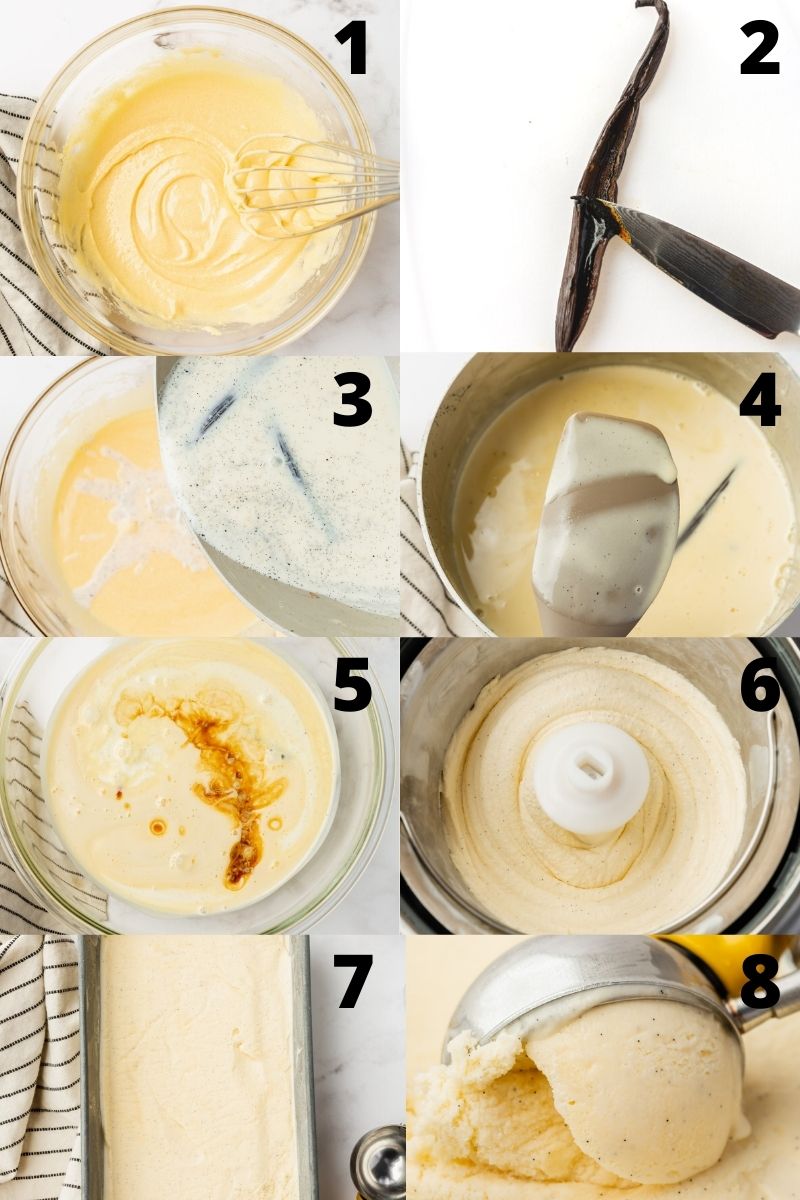 Crafting Perfect Custard Ice Cream from Scratch
To prepare for making custard ice cream, make sure to freeze your ice cream maker bowl for at least 24 hours in advance. Now let's dive into the process:
In a medium bowl, whisk together the egg yolks and granulated sugar until smooth and pale yellow.
Split the vanilla bean in half and scrape out the seeds. Don't discard the pod!
Heat the milk, salt, vanilla bean seeds, and vanilla bean pod in a saucepan until simmering. Avoid boiling.
Gradually add a small amount of the hot milk to the egg and sugar mixture, whisking constantly.
Pour the tempered egg mixture into the saucepan with the remaining hot milk. Heat on low, stirring constantly until the base thickens to coat the back of a spoon.
Strain the mixture to remove any cooked egg pieces. Return the vanilla bean pod to the mixture and add the heavy cream and vanilla extract. Stir well and cover with plastic wrap, ensuring it touches the surface to prevent skin formation. Refrigerate for at least 3 hours.
Remove the vanilla bean pod and churn the ice cream mixture in your ice cream machine according to the manufacturer's instructions. This should take about 25 minutes, resulting in a soft-serve consistency.
Transfer the ice cream to a shallow container or loaf pan, pressing plastic wrap or wax paper onto the surface. Freeze for at least 4 hours until it becomes solid.
Allow the ice cream to sit at room temperature for approximately 5 minutes before serving.
Please note that the numbered steps correspond to the images above and are for illustrative purposes only. For the complete list of ingredients and instructions, refer to the recipe below.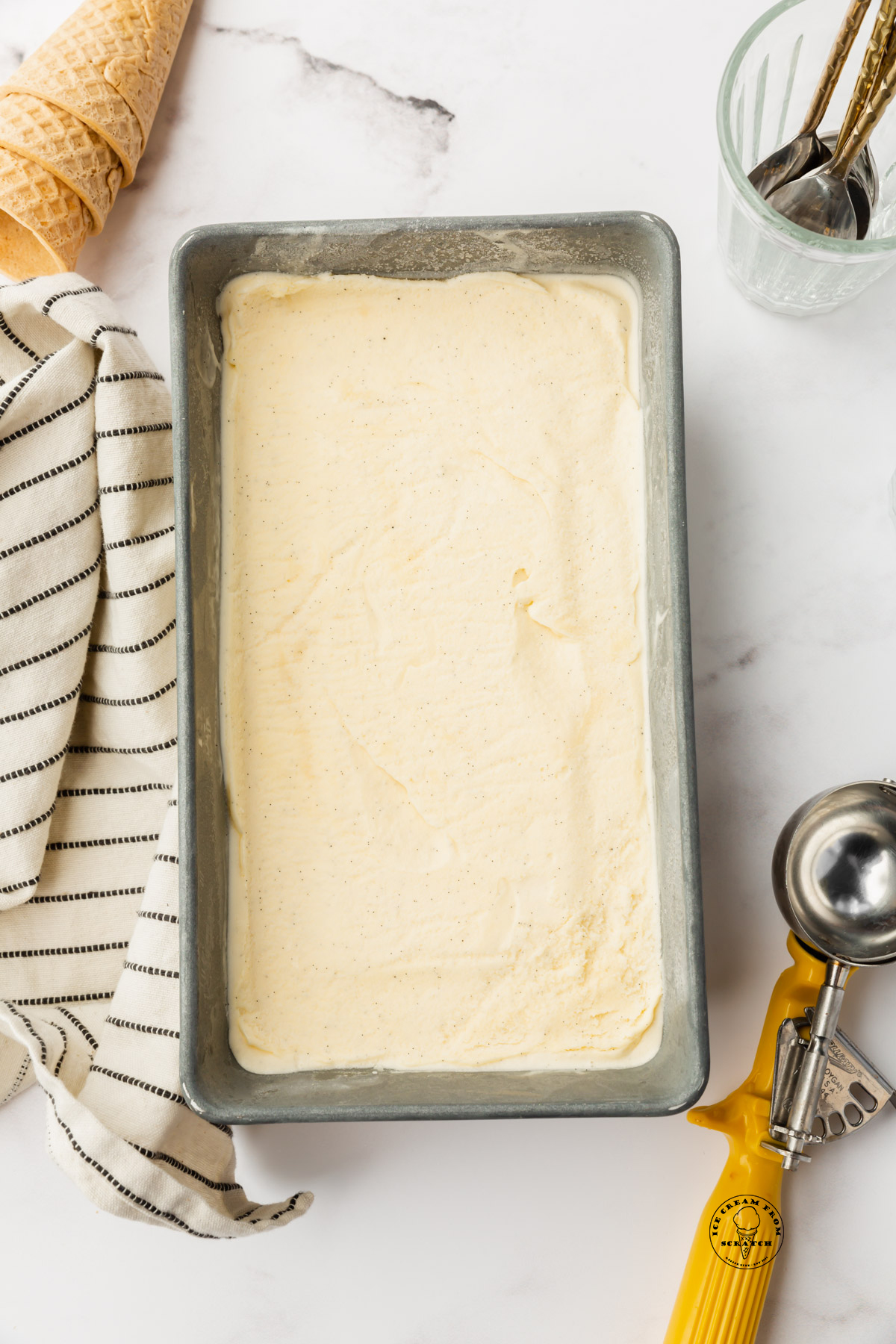 Storing Your Delightful Custard Ice Cream
Store your homemade custard ice cream in an airtight container in the freezer. To retain its freshness, place a piece of parchment paper or wax paper on top before sealing. It will stay delicious for up to one month.
Expert Tips for Making Perfect Custard Ice Cream
Use high-quality ingredients to ensure the best results.
Including the entire vanilla bean in the preparation process will enhance the flavor.
Chilled ingredients are ideal for both no-churn and ice cream maker recipes.
Opt for full-fat milk and cream to achieve the perfect creamy texture.
When adding extra ingredients, keep them small in size to maintain the ice cream's consistency.
The right amount of sugar is crucial for both sweetness and texture.
The Distinction Between Ice Cream and Frozen Custard
What sets custard ice cream apart is the addition of eggs to create an incredibly creamy and luxurious base. Our recipe guarantees an extra-rich, indulgent experience you won't soon forget.
Explore More Flavors and Options
This vanilla custard ice cream recipe is just the beginning of your flavor adventure. If you're craving chocolate, try our delicious Chocolate Ice Cream Recipe. And don't forget, all our French-style ice creams are made with the same creamy custard base. For those watching their sugar intake, we even have a sugar-free option.
Vanilla Custard Without Vanilla Beans
While real vanilla beans provide the most intense flavor, you can substitute vanilla bean paste if necessary.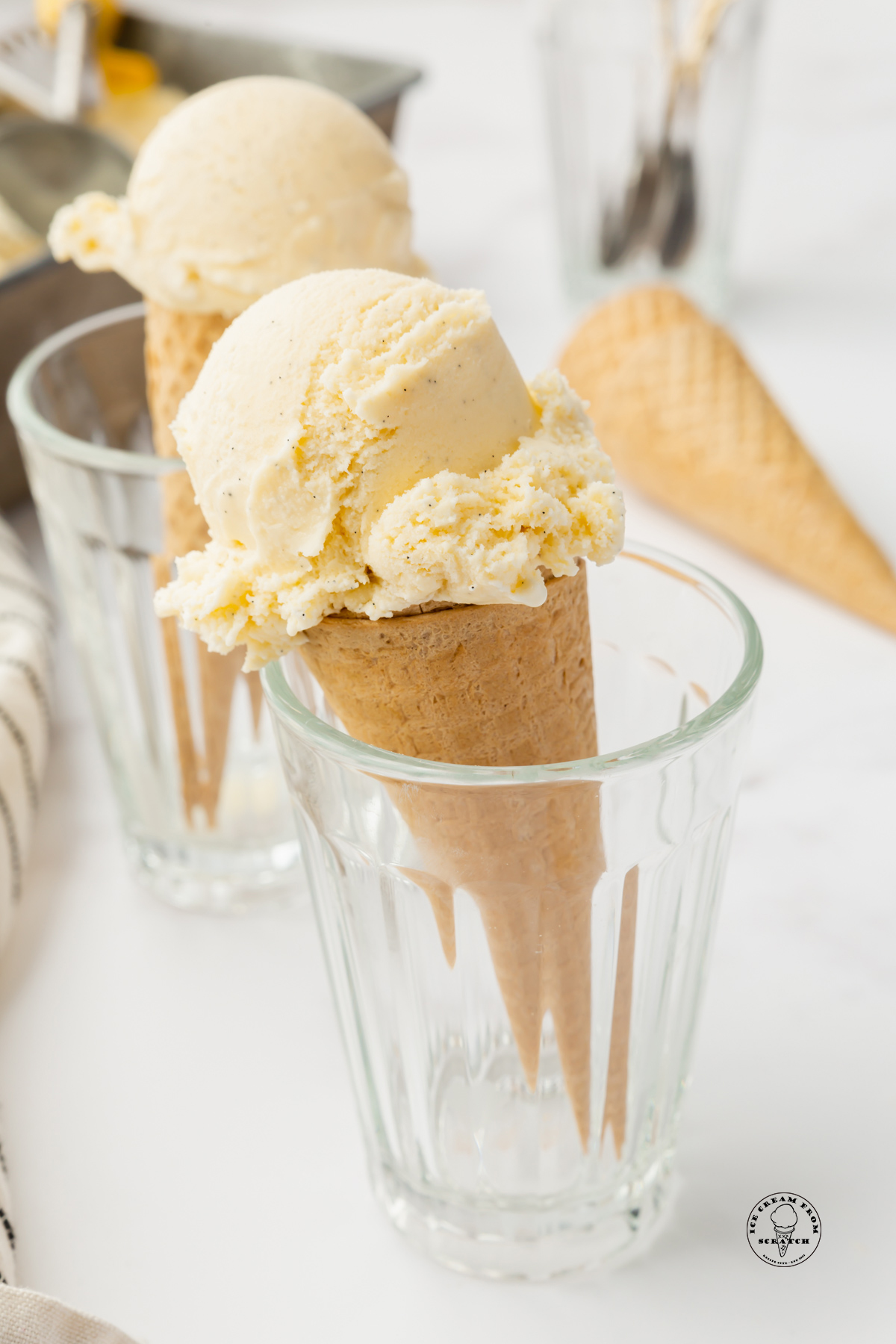 Making Custard Ice Cream without a Machine
No ice cream maker? No problem! You can still enjoy homemade custard ice cream. Chill a shallow container or loaf pan in the freezer while you mix the custard ingredients. Pour the mixture into the chilled pan and freeze for 3-4 hours, stirring every 30 minutes for the first 2 hours to incorporate air and achieve a creamy, smooth texture.
Getting Creative with Custard Ice Cream Add-Ins
Vanilla custard ice cream serves as a versatile canvas for various add-ins. Let your imagination run wild and try these ideas, or create your own unique flavors:
Miniature chocolate chips or chopped chocolate bars
Chopped candy bars
Sprinkles or Jimmies
Shredded coconut or chopped nuts
A swirl of fudge, caramel, or strawberry sauce
Use this custard as a topping for apple pie or as the base for a homemade ice cream pizza.
More Tempting Homemade Ice Cream Recipes
Andes Mint Ice Cream
Spumoni
Rum Raisin Ice Cream
Black Walnut Ice Cream
Strawberry Ice Cream
Cantaloupe Ice Cream
Stracciatella Gelato
Mango Gelato
Our Favorite Ice Cream Making Tools
To make your ice cream-making journey even more enjoyable, we recommend these helpful tools:
Cuisinart 2QT Ice Cream Maker: This versatile machine also works for sorbets and frozen yogurt.
Loaf Pan: Opt for a 9×13 loaf pan or a shallow pan for excellent results.
Ice Cream Scoop: Invest in a good quality scoop for perfect portions every time.
Ice Cream Containers: Keep a few containers on hand to store your delightful homemade ice creams.
Please note that the provided links will take you directly to the respective products on Amazon, where I earn a small commission from qualifying purchases.
Let's Stay Connected
For more delightful ice cream recipes, tips, and tricks, follow us on Pinterest. And feel free to leave a comment below if you have any questions or want to share your experience with our Homemade Custard Ice Cream Recipe.
---
Did you try our Homemade Custard Ice Cream Recipe? We'd love to hear your thoughts and any additional add-ins you enjoyed!