Who can resist the delightful combination of sweet cinnamon apples and a buttery oat crumble topping? Apple crisp is a classic dessert that brings back memories of grandma's kitchen, and it's easier to make than you might think. In this article, we'll share a simple yet mouthwatering recipe for apple crisp and explore what makes it the best of its kind.
Easy Apple Crisp Recipe: Perfect for Any Occasion
Whether you're entertaining a crowd or looking to enjoy a cozy Sunday night dessert, apple crisp is a versatile treat that fits the bill. With minimal effort, you can create a dessert that is sure to impress. Plus, the aroma of baked apples will fill your home and create a warm and inviting atmosphere.
Are you a fan of fall baking and apple season? If so, you're in for a treat! This apple crisp recipe is a wonderful addition to your repertoire. It's hard to find someone who doesn't love a classic apple dessert, and this one is no exception.
Why Apple Crisp Is a Stress-Free Alternative to Pie
While pies can be daunting, apple crisp offers a more relaxed baking experience. You don't have to worry about perfecting the crust or creating the picture-perfect slice. Crisps give you all the best parts of a pie without the stress.
The Secrets to the Best Apple Crisp
What sets this apple crisp recipe apart from the rest? Let's uncover a few simple tricks to ensure your apple crisp turns out perfectly every time.
Secret #1: A Hint of Citrus
One secret to the deliciousness of this apple crisp is the addition of orange zest and a splash of juice to the apple mixture. This subtle touch of citrus, inspired by Ina Garten's Barefoot Contessa, adds a unique flavor without overpowering the dish.
Secret #2: Quick Oats for the Perfect Texture
When preparing the crisp topping, opt for quick oats. They absorb some of the apple's moisture while maintaining a satisfying crunch. While old-fashioned oats can be used as a substitute, the smaller pieces of quick oats blend seamlessly into the topping, resulting in a more enjoyable texture.
Secret #3: Let the Flavor Develop
Allow the apples to marinate in a combination of cinnamon, sugar, zest, and juice before baking. This step draws out excess moisture, preventing your apple crisp from becoming too soupy.
Secret #4: Granny Smith Apples for Optimal Results
While you can experiment with different apple varieties, Granny Smith apples are a reliable choice for baking. They retain their texture, release less juice, and strike a balance between sweetness and tartness when baked.
How to Make the Best Apple Crisp
This recipe is incredibly simple and can be ready to serve in under 20 minutes. Follow these steps to create a warm and bubbling apple crisp that will satisfy your cravings.
Peel and slice five large Granny Smith apples.
Combine the apples with orange zest, orange juice, salt, brown sugar, and cinnamon. Ensure all the apple slices are coated in this flavorful mixture and allow them to rest for a while.
In a separate bowl, prepare the crisp topping by combining butter, flour, brown sugar, oats, and salt. Use a pastry cutter or your hands to incorporate the butter until the mixture is crumbly.
Spread the apple mixture evenly in a baking dish, discarding any excess liquid to avoid a soupy consistency.
Bake until the apples are tender and bubbling, and the topping is golden and crispy.
Explore More Apple-Inspired Recipes
If you can't get enough of apple desserts, we've got you covered. Here are a few other recipes to satisfy your apple cravings:
Apple Fritter Bread
Easy Skillet Caramel Apple Pie
Apple Snickerdoodle Bars
Apple Cake with Browned Butter Frosting
This apple crisp recipe was originally published in 2015 and has stood the test of time. We've updated the content with some helpful tips and tricks to ensure your apple crisp turns out as delicious as possible.
Print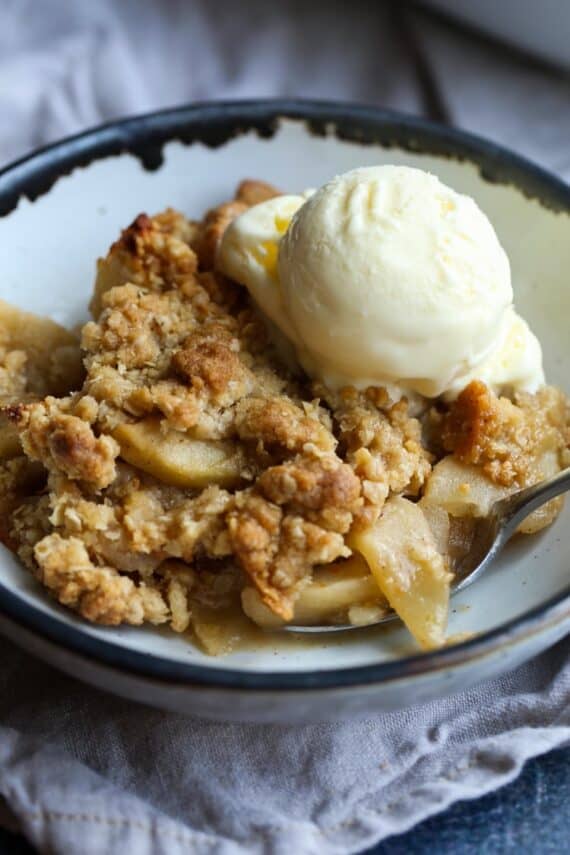 Now that you have the recipe for the best apple crisp, it's time to gather your ingredients and start baking. Let the aroma of cinnamon and apples fill your kitchen as you create a dessert that will transport you back to those cherished moments in grandma's kitchen. Don't forget to add a scoop of vanilla ice cream for the ultimate bite of apple crisp goodness.
For more delightful recipes and culinary inspiration, visit Ice Cream.