Here are the best information about Coffee colorado springs voted by readers and compiled and edited by our team, let's find out
Have you been looking for a great cup of coffee around Colorado Springs?
Then I have good news for you: Colorado Springs is an area that collectively knows how to do exceptional coffee shops. There are many choices; from a tiny shop that gives back in big ways to another that won 2nd best roaster in the nation.
The following coffee shops in Colorado Springs are inviting and offer an almost enchanted ambiance.
Wild Goose Meeting House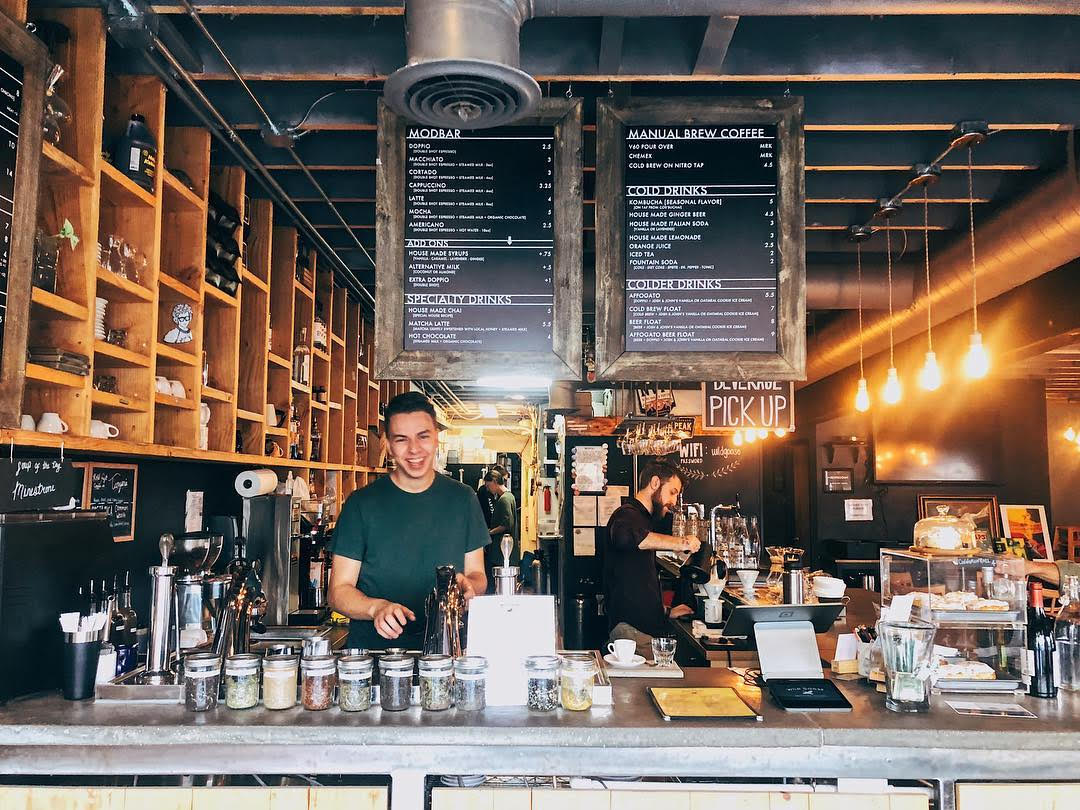 There is something for everyone at this unique Colorado Springs coffee shop that also serves breakfast, lunch, and dinner.
The wood-clad area is has a laid-back atmosphere that makes you want to sink into one of the lounge chairs and enjoy the live music right when you step inside. It's decorated with trendy Edison lights, dark walls, and has a garage door for one of the walls that they open when the weather is nice.
To offer great coffee at the Wild Goose, they partner with Colorado roasters and only use beans sourced from a single origin. The pour-over coffee can be enjoyed in its pure form or with the syrups that they make at the Wild Goose with as many local ingredients as possible.
If you aren't a fan of coffee, the loose-leaf teas are presented in a French press, which locks in flavor and won't disappoint.
This is a great place to find locally made brats, street nachos, and meat and cheese boards. Also, if you're looking for coffee plus vegan or vegetarian snack options, don't overlook this local hotspot. Or if you just want a dog-friendly place to grab some caffeine before your next hiking adventure, stop into The Wild Goose Meeting House on the corner of Boulder and Tejon Street in downtown Colorado Springs.
Switchback Coffee Roasters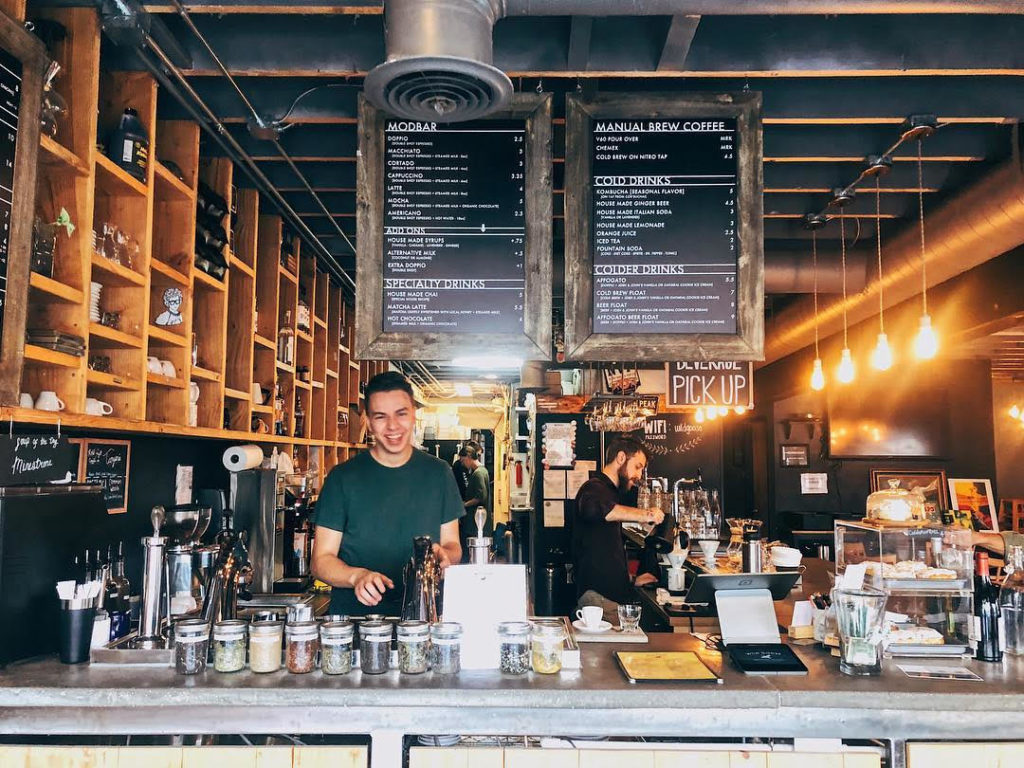 This artisanal and sunlit modern coffee shop brings specialty coffee to Colorado Springs and turns it into an art form. The open floor plan is decorated with plants and art and invites anyone to come in and relax on a sofa.
Switchback built a solid reputation as a Colorado Springs coffee roaster and has also made enormous waves competitively. At the 2018 U.S. Coffee Championships in Seattle, Switchback placed as the 2nd best roaster in the nation and their Lead Barista, Sam Neely, was a finalist in the Barista category.
Their head roaster, Evan Shubarth, is a certified Q Grader, which is the closest thing to a coffee sommelier. This means that he can authoritatively assess a certain coffee's quality. He trained all of Switchback's current roasters, and the team as a whole would love to show you how coffee can be special.
Switchback is located near downtown and is a few extra minutes away from Garden of the Gods, but it's still close enough to eat breakfast or lunch here before heading to the Garden. Trust me, you won't mind this upscale detour one bit.
Story Coffee Co.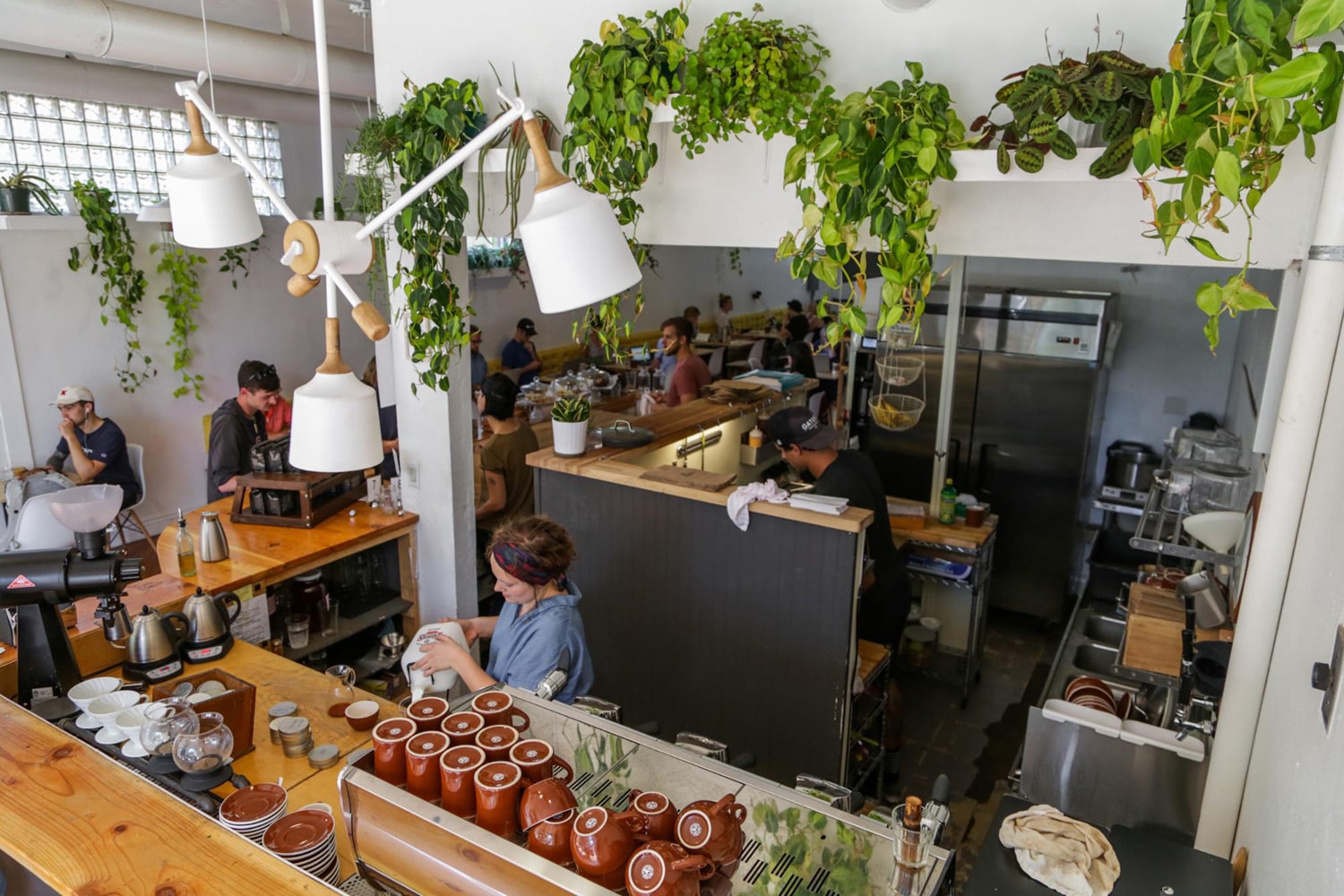 The next Colorado Springs coffee shop in our lineup is the first Tiny House Coffee Shop in the world. Their size might be mini but their coffee is rich, deep, and flavorful.
Architectural Design Magazine recently named Story Coffee Co. one of America's Most Beautiful Coffee Houses, which they 110% deserve.
Story Coffee Co. is positioned in the Acacia Park hideaway, right in the heart of downtown Colorado Springs near regular concerts, events, and farmers markets. Instead of being a walk up café, visitors enter the cozy lobby as a way of symbolizing how we all have a part to play.
When you order a cup of coffee at Story, you become a part of the epic story they are creating. They feed friends in need by generously giving 5% of every dollar spent directly back into our community by supporting the Marian House soup kitchen.
The light and airy feel inside make the local coffee experience quaint and welcoming. Next time you're on the way to Garden of the Gods and need a place to grab epic coffee to go, try Story Coffee Co.
Jives Coffee Lounge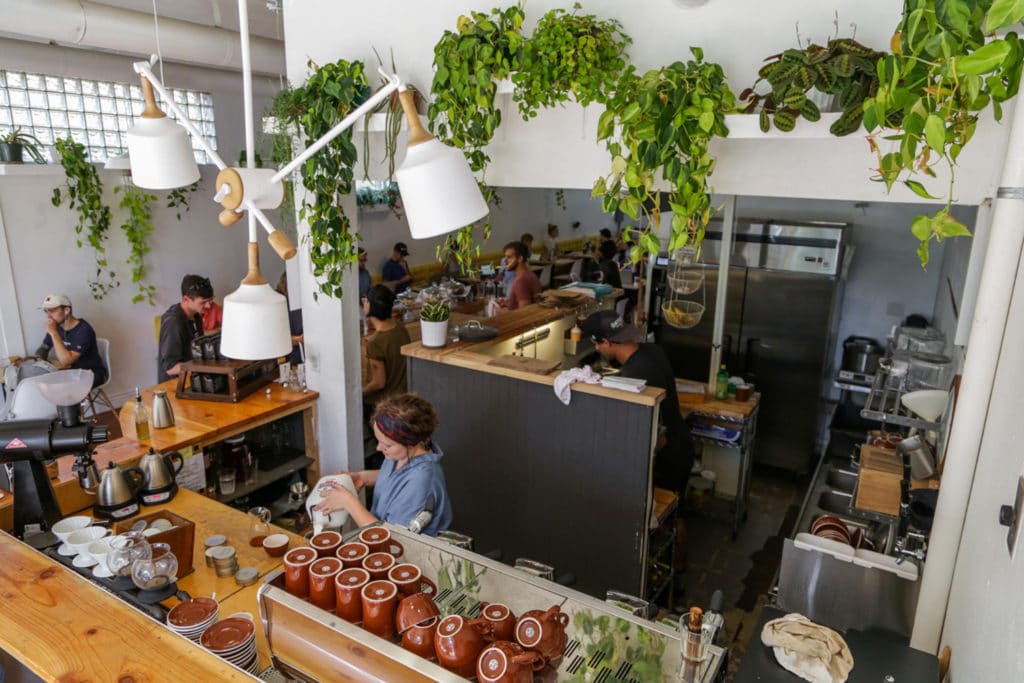 You haven't seen all of the best coffee shops in Colorado Springs if you haven't been to the eclectic Jives. The large space has an atmosphere that's relaxing with a hint of steampunk in the décor. A stage is situated front and center with ample entertainment room.
With the motto 'coffee music life', many of the baristas are also musicians and are devoted to hosting the best live music as frequently as they can. The games area is a local favorite as they have chess and checkers to help you fill every minute of your afternoon.
Jives has some unique choices of their own and refers to their specialty drinks as 'forte's' and has creative options like a spiced mocha or a drink called a black sea with real mediterranean sea salt. Have you ever tried a Rocha Mocha with almond rocha and mocha? Now you can.
Jives also allows dogs! Stop in for an open mic night after your walk in the Garden of the Gods. They are located right around the corner in Old Colorado City, on Colorado Avenue and Colbrunn Street.
Loyal Coffee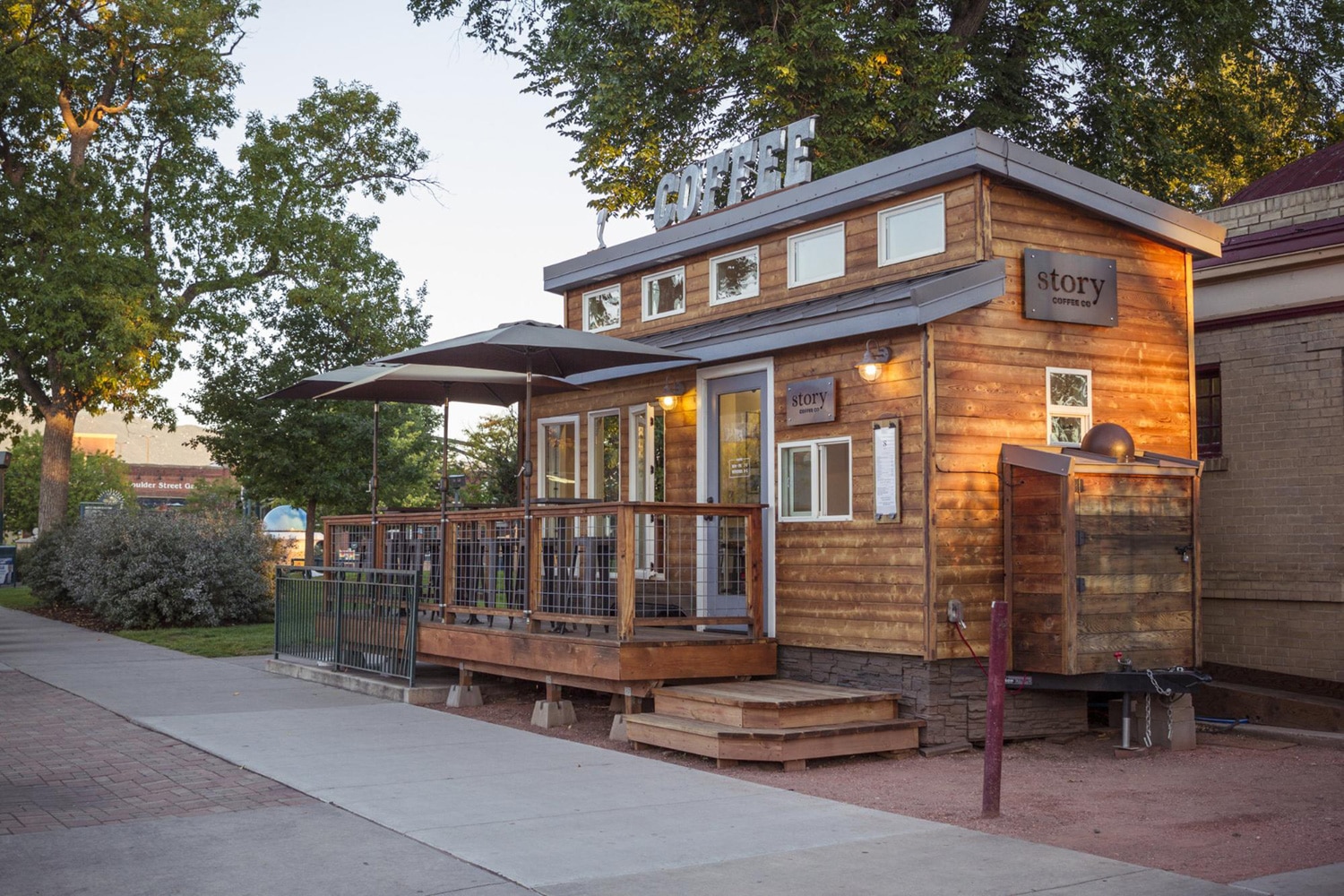 For a truly one of a kind five senses experience, stop by Loyal Coffee. They roast their coffee in-house and are one of the only barista-owned coffee shops in Colorado Springs.
As they truly love their city and their craft, Loyal Coffee baristas have helped build the reputation of Colorado Springs in the world of competitive coffee. Their precision and creativity has taken them far: it has even helped them to place well in previous years at the U.S Coffee Championships.
Loyal Coffee is one coffee roaster in Colorado Springs that carefully roasts the beans in order to bring out the best in the coffee. This is the taste difference that specialty coffee offers.
Located off of Nevada and Costilla Street in downtown Colorado Springs, the ambiance inside is industrial, modern, and was intended to celebrate local community. If you're heading out and want to fuel up beforehand with breakfast on the way to the Garden of the Gods, I hope the classic egg on toast or sweet potato hash will delight you.
Don't see your favorite coffee shop in Colorado Springs on this list?
We're always up for an excuse to drink more coffee. Give us a holler and let us know what we're missing!