Below is a list of the best Disney world ice cream voted by readers and compiled and edited by our team, let's find out
Summer is almost over, but that doesn't matter when it comes to eating ice cream at Walt Disney World®. In Florida, any day is a good day for ice cream. So, we thought we give you our top five favorite picks for ice cream.
5. Plaza Ice Cream Parlor — Magic Kingdom Park
The Plaza Ice Cream Parlor is an ice cream tradition for many families visiting Walt Disney World®. There's (almost) not a better treat for watching the afternoon parade or the evening's fireworks at the Magic Kingdom. While the options here are pretty basic (sans the doughnut sundae) there's something for everyone. And if you're in the mood for sharing, we highly recommend Mickey's Kitchen Sink Sundae.
4. Beaches & Cream Soda Shop — Disney's Beach Club Resort
While Beaches & Cream Soda Shop isn't just an ice cream shoppe – serving a variety of burgers, sandwiches, and hot dogs. It's on this list for one reason and one reason only: The Kitchen Sink. While Mickey's version only has two scoops of ice cream, the official Kitchen Sink has EIGHT scoops of ice cream, cake, brownies, cookies, peanut butter, hot fudge, 3 sauces, cherries, bananas, and sprinkles. Take that cheat day!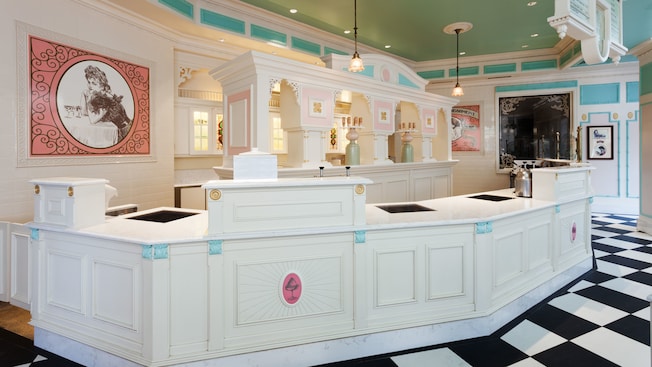 3. Ample Hills Creamery — Disney's Boardwalk
If you're an ice cream aficionado, then Ample Hills Creamery is probably the choice for you. Straight from New York City, Ample Hills Creamery makes ice cream the old-fashioned way — like 1920's old-fashioned way, complete with mix-ins. There's so many unique flavors to try here, you'll probably need to make multiple trips so your family can try them all. Feeling adventurous? Try Sally Sells Seashells Ice Cream or Nonna D's Oatmeal Lace Ice Cream.
2. Pineapple Lanai — Disney's Polynesian Village Resort
Pineapple Dole Whip®. I don't think this requires another explanation. And the only reason it's number two, and not one, is because it's not really ice cream. That's how good it is. (Can also be found at Aloha Isle inside the Magic Kingdom and Tamu Tamu Refreshments inside Animal Kingdom.)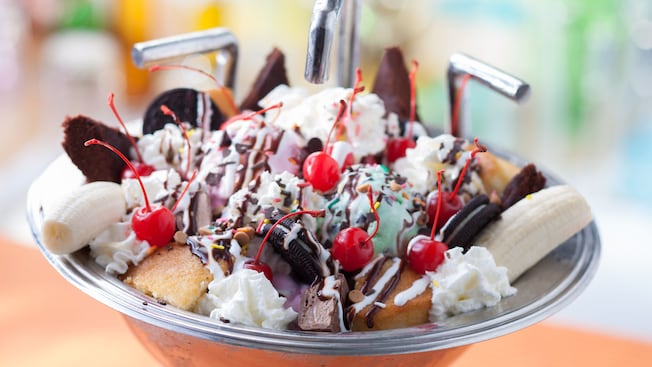 1. Ghirardelli® Ice Cream and Chocolate Shop — Disney Springs
Before anyone starts hating on this as the number one choice, I have two words — hot fudge. If there's one thing Ghirardelli® does better than any ice cream shoppe I've ever been to, it's making home-made hot fudge. It doesn't matter if you choose the dark or the milk, go here, order any sundae, and make sure it has hot fudge. And then ask for some hot fudge on the side. I promise you won't disagree. Our personal favorite is the Mint Bliss (pictured in foreground).