Below is a list of the best Late night ice cream voted by users and compiled by us, invite you to learn together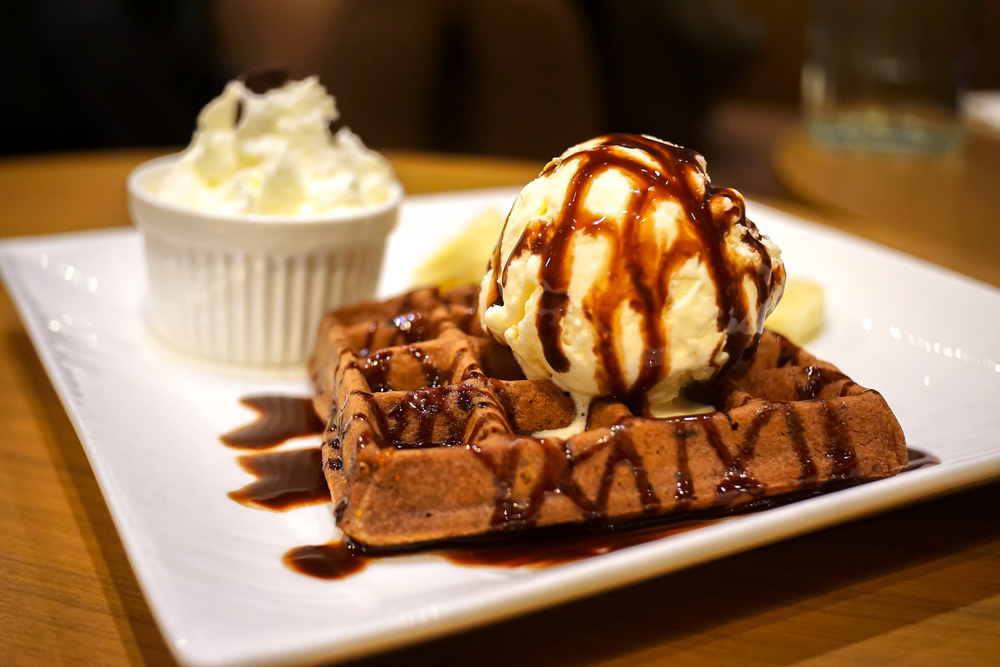 You know what they say: there's always room for dessert. Satisfy your post-dinner sweet tooth with some of these indulgent late-night dessert places in Singapore.
There's no way that anyone can hate or stay away from ice cream for long, especially not when you live in Singapore where the weather regularly soars above 35°C. Have it topped with rainbow sprinkles, nuts or fudge and presented in a crispy waffle cone — what's there not to love?
In fact, nothing hits the sweet spot better than tucking into sinfully-decadent desserts after dinner. Whether you prefer traditional local desserts or ice cream, there are loads of dessert places in Singapore to explore.
So grab your car keys, your supper buddies, and head out on a hunt for the best after-hours dessert places to quell your sweet cravings.
Best Late-Night Dessert Places For Supper in Singapore 2022
2am:dessertbar
Source: 2am:dessertbar
Contrary to its name, this dessert bar doesn't actually open until 2am. Nonetheless, midnight is still a decent late-night hour in our books.
Elevated and sophisticated with just a smidge of grunge, the 2am:dessert bar has all the right elements of a classy dessert experience. With a mission to make progressive desserts more accessible to the public, acclaimed chef-artist Janice Wong's impressive repertoire consists of art-on-a-plate and edible installations.
At her bar, you can expect a wide variety of affordably-priced desserts, including keto and plant-based selections. For instance, you can sink your teeth into a Keto Matcha Basque Cheesecake (S$9) or savour the maple syrup off a Vegan Sticky Date Pudding (S$9).
For those who enjoy Goreng Pisang, their three scroops of Vegan Roasted Banana Ice Cream (S$5.50) is a definite must-try! Lastly, complete the dessert extravaganza with their signature Praline Poprocks Chocolate Cake (S$22) for the ultimate indulgence.
Not to mention, all these prices are NETT.
Address: 21A Lor Liput, Holland Village, Singapore 277733Opening hours: Daily (except Monday) from 1pm to 12amTel: +65 6291 9727FB | IG
Sunday Folks
Source: Sunday Folks
Just around the corner, we have the Holland Village outlet of Sunday Folks dessert cafe that too, operates until a fairly late hour.
Dedicated to their dessert-making craft, Sunday Folks has a profound eye for detail in their confectionary process from ingredient selection to creation. Their decadent offerings of confectionary include ice cream birthday cakes, ice cream petit gateau, celebration bundles and more.
Their indulgently-rich Cognac Chocolate Ganache Cake (S$88) will leave you savouring every bite. Or if you prefer a lighter palate, their aromatic Lemon Lavender Cake (S$68) combines sour and floral touches with a fluffy sponge cake batter into a perfect mix.
Apart from their ala-carte varieties, they also offer pre-packed bundles of confectionary combinations for a fuss-free celebration. For instance, throw the ultimate party with their Celebration Bake Box (S$36) or enchant your tastebuds with their Ice Cream Petit Gateau Discovery Box (S$48).
Address: 44 Jln Merah Saga, #01-52 Chip Bee Gardens, Singapore 278116Opening hours: Tues to Thurs (1pm to 10pm) | Fri (1pm to 11pm) | Sat (12pm to 11pm); Sun (12pm to 10pm) | Closed on MonTel: +65 6479 9166FB | IG
Related to this topic:1-for-1 Buffet Dining Promotions in SingaporeCDC Vouchers 2022: How to Use and Maximise Them This Fathers' DayMoney-Saving Food Hacks For The 'Scrooge' in You
Lickers
Source: Lickers
Fancy a late-night ice cream hunt with your mates all through the weekend? Lickers will be the perfect midnight dessert stop for you.
They specialise in unique flavours, so don't expect to find your typical vanilla, chocolate or strawberry flavours here. For example, their Oolong Lavender, Yakult Oreo, and Milo Mallow are worth a shoutout. Single scoops start from S$3.50 and cost $0.80 more for premium flavours.
Not to mention, their tribute to durian lovers with the Mao Shan Wang (S$28.90 per 400g pint) flavour is a must-try.
And if you've a craving for something really sweet, then give their bright blue Cookie Monster ice cream a try. Initially created for kids, this flavour mixes classic vanilla ice cream with generous chunks of oreos, M&M's, chocolate chip cookies and cookie dough — the perfect treat for any sugar monster.
Overall, Lickers is a great hangout spot for you to kick back, relax and chatter away with your friends deep into the night.
AddressNortheast: Blk 124, Hougang Ave 1, #01-1446, Singapore 530124 South: 6 Telok Blangah Cres, #01-422, Singapore 090006
Opening hours: Tues to Thurs (1pm to 2am) | Fri to Sun (12pm to 2am) | Closed on Mon E-mail: [email protected] | IG
Oblong
It's pretty common knowledge that waffles and ice cream go hand in hand — and that's exactly what Oblong's speciality is.
Following a DIY concept for their menu, customers get to build their own dessert combo by choosing their preferred waffle, syrup and ice cream flavour. Furthermore, their waffles and ice cream flavours come in classic, premium and supreme grades depending on your budget.
Sink your teeth into their chewy Red Velvet Waffle (best seller) or if you're a fan of caramel, their new Spectacular Speculoos Waffle is worth a try. They even have Ferrero Rocher and Milo Crunch Waffles for those who prefer chocolate!
Ice cream wise, their classic flavours include popular choices like Earl Grey Lavender, Cookies & Cream, Matcha and more. For a premium touch, you can also choose more unique flavours such as Butterfly Pea, Ondeh Ondeh, or Mao Shan Wang.
Their classic waffles start at S$6.20 (ala-carte) and S$12 (combo), with every tier upgrade increasing by a dollar. The same concept applies to their ice cream flavours with single scoops from S$4.20. Premium flavours and supreme flavours cost extra S$0.60 and S$1.20 respectively.
This dessert cafe is situated centrally near Chomp Chomp Food Centre, making it one of the best dessert cafes to satisfy your sugar cravings.
Address: 10 Maju Ave, Singapore 556688Opening hours: Sun to Wed (1pm to 11pm) | Fr & Sat (1pm to 1am) | Closed on Thurs FB | IG
Hay Gelato
Source: Hay Gelato
After the casual dining success of Brine, their R&D team sought to expand their horizon to create the ultimate sweet and savoury pairing counterparts. As a result, this soon led to the establishment of Hay Gelato — a hidden ice cream and waffle gem in the east.
Their team is dedicated to creating the best, natural gelato flavours using only the finest ingredients. You won't be able to find any added preservatives or artificial colouring here.
And true to their word, their gelatos are incredibly creamy and rich and come in an assortment of interesting flavours. If you prefer citrusy or fruity flavours, their Preserved Orange Peel and Basalmic Strawberry will be right up your alley. Or if you prefer more grounded flavours, you can't go wrong with their Roasted Pistachio and Roasted Cacao choices.
So don't be shy to get your late-night ice cream fix at Hay Gelato; single scoop prices start from S$4.20 and waffles from S$5.50.
Address: 136 Bedok North Ave 3, #01-148, Singapore 460136Opening hours: Daily from 1pm to 2am | Closed on MonTel: +65 9663 4254E-mail: [email protected] | IG
Score some extra cashback with these dining credit cards to unlock the best rebates while munching away!
Haute & Cauld
Source: Haute & Cauld
If their punny name wasn't appealing enough for you, maybe their array of ice cream flavours would.
What sets Haute & Cauld apart from other entrants on our list is their in-house speciality — the croffle. Popularised in Korea, croffles are a hot favourite with everyone. Flaky crusts on the outside but soft and buttery goodness on the inside, the croffle combines all the best qualities of croissants and waffles into one.
Top the croffle off with tantalising ice cream flavours like Creme Brulee, New York Cheesecake or Hokkaido Milk and you've got yourself a winning dessert treat right there.
Since it's located a stone's throw away from Bedok Reservoir, this quaint ice cream shop is a great pit stop for a refreshing scoop of ice cream before continuing your nature trail.
Address: Blk 740, Bedok Reservoir Rd, #01-3179, Singapore 470740Opening hours: Weekdays (6pm to 2am) | Weekends (12pm to 2am)Tel: +65 8296 0995E-mail: [email protected] | IG
Sweet Cheeks
Constantly dreaming up new and exciting flavours, prepare yourself for a burst of flavour and colours when visiting Sweet Cheeks. Made fresh daily, they have over 20 flavours (e.g. Marshmallow Oreo, Banana Walnut Brownie, Ricotta with Pistachio Bits, etc.) available on their menu with certain seasonal flavours on rotation.
Vegan and gluten-free flavours are also available for those who are more health-conscious or with special dietary requirements. Thanks to its menu inclusivity, this dessert cafe has definitely garnered a solid following.
AddressAng Mo Kio: Blk 529, Ang Mo Kio Ave 10, #01-2353, Singapore 560529Potong Pasir: 37 Tai Thong Crescent, Singapore 347862Lavender: 147 Tyrwhitt Rd, Singapore 207561
Opening hours: Sun to Thurs (12pm to 11pm) | Fri & Sat (12pm to 1am)ContactIG
Dessert First
Source: Dessert First
We've talked a lot about western desserts so far, so what about more traditional ones? At Dessert First, you can find a mixture of hot and cold desserts. Dig into some refreshingly cool desserts like Mango Snow Ice, Strawberry Snow Ice (S$8.50) or Honeydew Sago or Steamed Milk Egg White with Almond Cream (S$4.80).
Conversely, you can warm your soul with some Gingko Barley (S$4.50), Cheng Tng (S$4.80), Sesame Paste Tang Yuan (S$4.80) and much more.
Some items are also available in both hot or cold upon request.
Regardless of which dessert you choose, they're all guaranteed to be tasty, filling and probably reminiscent of your Ah Ma's cooking from back in the day.
Address: 8 Liang Seah Street, #01-04, Singapore 189029Opening hours: Mon, Tues, Thurs (1pm to 12am) | Fri & Sat (1pm to 1am) | Sun (12.30pm to 12am) | Closed on WedTel: +65 6333 0428 / +65 9241 5672E-mail: [email protected]
Ah Chew Desserts
Source: Ah Chew Desserts
Lovers of local desserts are no stranger to the popular franchise, Ah Chew Desserts. Having achieved household name status amongst locals, this dessert establishment has grown massively in popularity and garnered a legion of loyal customers.
But what are some traits that contributed to their success? For starters, their menu boasts an impressive array of traditional hot and cold Chinese desserts to enjoy. From soupy to grass jelly desserts, there's a sweet treat for everyone.
Their bestsellers include variations of Durian Sago combos (from S$6.20), Milk Steamed Egg with Red Bean (S$4), Black Glutinous Rice with Vanilla Ice Cream (S$4.50) and many more.
For Ah Chew, their attentiveness and strong relationship with their customers are part of the reasons why their dessert quality has remained consistent throughout the years. This allowed Ah Chew to continue being one of the best traditional dessert cafes in Singapore.
NovenaAddress: 181 Thomson Road, Goldhill Shopping Centre, Singapore 307627Opening hours: Daily from 12.30pm to 12amTel: +65 6254 8198
BugisAddress: 1 Liang Seah Street, #01-10/11, Liang Seah Place, Singapore 189032Opening hours: Mon to Thurs (12.30pm to 12am) | Fri (12.30pm to 1am) | Sat (1.30pm to 1am) | Sun & Public Holidays (1.30pm to 12am)Tel: +65 6339 8198
Related to this topic:Dim Sum Promotions in Singapore (May 2022)6 A La Carte Buffets to Enjoy in Singapore (May 2022)14 Best Japanese Buffets in Singapore 2022
Tian Wang D'Sweet
Those that love mahjong and traditional Chinese desserts will adore the Tian Wang D'Sweet cafe located right in the heart of the bustling Jalan Besar supper street.
As with most Chinese dessert stores, this dessert cafe offers a mixture of hot and cold selections. Popular choices include their Mango Pomelo Sago (S$4.80), Peach Gum (S$6.80), Passionfruit Soursop Mousse (S$5.80) and the list goes on.
Recently, they've even launched their highly-anticipated A-grade Mao Shan Wang Durian Flesh for S$13 per tub that's equal parts creamy, savoury and a 100% heavenly.
Whatever your cup of tea is, you can certainly find something new and delicious to try at Tian Wang D'Sweet. Best of all, they open till 3am every day — the latest operator on our list thus far. Remember to snap a foodie photo at their iconic mahjong-tiled accent wall!
Address: 145 Jalan Bear, Singapore 208863Opening hours: Daily from5pm to 3amIG
Rochor Beancurd
Source: Vulcan Post
Last but not least, let's pivot away from the spread of Chinese traditional desserts we've seen so far to focus on one particular dish: beancurd
Delicate, silky-smooth and just the right amount of sweetness, there's a reason why Rochor Beancurd has been a go-to dessert choice for many towngoers. On a personal note, their beancurd (S$1.50) complements the savouriness of other common local snacks like Youtiao (S$1.20) really well.
And of course, aside from Youtiao, there are other snack offerings like Peanut Sesame Ball (S$1.20), Curry Puff (S$1.50), Butterfly (S$1.20) and more for those who are feeling extra peckish.
All in all, let's just say nothing beats the taste of a cooling, refreshing bowl of tau huay on a hot, humid night. Or if you still prefer it warm, that's fine too.
GeylangAddress: 156/158 Sims Avenue, Singapore 387476Opening hours: Daily from 10am to 10.30pmTel: +65 8288 7020
RochorAddress: 2 Short Street, Singapore 188211Opening hours: Mon to Thurs, Sun (10.30am to 11.30pm) | Fri & Sat (10.30am to 12.30am)Tel: +65 6334 1138
You know what's as sweet as ice cream and waffles? Earning some sweet cashback rebates when you register for a cashback card today.
Back to top
Best Daytime Dessert Places to Visit in Singapore 2022
Birds of Paradise Gelato Boutique
Hop on the flavour train to Birds of Paradise for some unique botanical and herbal ice cream flavours that include Strawberry Basil, White Chrysanthemum, Lemongrass Ginger, Spiced Pear and more. Yes, you may have a little frown right now because they don't sound like they go together, but we're here to assure you that they really do and would perhaps be the most fragrant ice cream you would ever taste.
AddressKatong: 63 East Coast Rd, #01-05, Singapore 428776Changi: 78 Airport Blvd, #01-214/215/216, Jewel Changi Airport, Singapore 819666 (Re-opening soon)Tanjong Pagar: 53 Craig Rd, #01-01, Singapore 089691
Opening hours: Daily from 12pm to 10pmTel: +65 9862 3260 (Whatsapp)FB | IG
Creamier
Does the name Creamier ring a bell? This is the ice cream shop that caused a slight panic amongst local ice cream enthusiasts last year when they closed their doors for 3 months to facilitate a move from one part of Toa Payoh Lorong 1 to another.
Slightly dramatic, but if you've ever tasted their Sea Salt Gula Melaka, Roasted Pistachio or Earl Grey Lavender ice cream, you will understand why. Rich, creamy and extremely affordable, choose to have it in a cup, waffle cone or on their signature golden waffles, which are made upon order at this ice cream stop.
Pro-tip: Spoil your furkid with their paw-lickingly delicious flavours of pup-safe ice cream done in collaboration with Pet Cubes.
Address: Multiple outlets islandwideOpening hours: Varies according to outletTel: Multiple numbersFB | IG
The Daily Scoop
With over 20 delicious ice cream flavours that include simply chocolate, Mao Shan Wang, Kookie Monster, Surprising Coconut and Cha Earl Grey available at any time, you'll be spoiled for choice at The Daily Scoop. They even carry a selection of unique alcoholic ice cream like Lychee Martini and Baileys Chocolate Chips for adults.
Apart from ice cream, they also have waffles on their menu. Freshly baked upon order, their fluffy waffles ($7.80 with a single scoop) have a nice crust and, in our humble opinion, the perfect vessel for ice cream.
Pro-tip: On a diet or feeling peckish? Daily Scoop is one of the only ice cream shops on this list that serves junior scoops ($2.70) to adults (without judgement).
Address: Multiple outlets islandwideOpening hours: Varies according to outletTel: Multiple numbersE-mail: [email protected] | IG
FATCAT Ice Cream Bar
FATCAT's ice cream menu offers 18 flavours that include Smoked Oolong, Butter Beer (specially for Potterheads), Matcha Sea Salt, Black Sesame and more.
If you're a fan of salted egg yolk, be sure to try their signature charcoal waffle ($6.50) during your visit. Served piping hot, this Instagram-worthy dessert comes with a scoop of ice cream, salted egg yolk sauce, salted caramel sauce and sprinkled with dried lavender flowers.
They may call themselves an ice cream bar, but we think that FATCAT is more of a dessert cafe because you can find a wide selection of cakes, tarts, brownies, coffee and even bubble tea on their menu.
Address: Blk 416, Bedok North Ave 2, #01-25, Singapore 460416Opening hours: Tues to Sun from 1pm to 10pm | Closed on MonTel: +65 6241 0830 / +65 8828 8230 (Whatsapp delivery)FB | IG
Related to this topic:The Real Cost: Food Delivery in Singapore (2022)8 Unique Themed Cafes in Singapore You Never Knew Existed8 Kid-Friendly Restaurants With Entertainment
Merely Ice Cream
Hand-made from scratch with quality ingredients, Merely prides itself in making ice cream without preservatives or additives. With over 20 flavours, you get to pick and choose from favourites like Valrhona Chocolate, Salted Butterscotch, and Earl Grey to alcoholic ones like Baileys, Chocolate Stout and Nutty Beer.
With an outlet a stone's throw away from the main Orchard Road stretch, Merely's is a great dessert escape when the shopping crowd gets unbearable and you just want to enjoy an ice cream cone in peace.
Tampines Address: 1 Tampines Walk, Tampines Hub, #B1-52, Singapore 528523Opening hours: Mon to Thurs (12.30pm to 9.30pm) | Fri to Sun (12.30pm to 10pm) Takeaways only
Town Address: 91 Bencoolen St, Sunshine Plaza, #01-13, Singapore 189652Opening hours: Mon to Thurs (12pm to 10pm) | Fri to Sat (12pm to 10.30pm)
Tel: +65 6238 0890FB | IG
Tom's Palette
If you can dream of an ice cream flavour, you can bet your last dollar that Tom's Palette would've created it. Apart from all-time favourite flavours like Yuzu, Salted Caramel Cheesecake and Chocolate Sorbet, they also serve adventurous ones like Salted Egg Yolk, Kueh Bangkit, Vietnamese Coffee and more.
A strong believer in producing honest ice cream, Tom's Palette makes all their ice cream without preservatives, stabilisers, premixers or artificial flavourings. Do check their IG stories daily to see what their in-house seasonal flavour roster of the day is.
And if you need another reason to visit on weekdays from 3pm to 5pm, you can enjoy a free scoop of ice cream with every French or Brownies waffle ordered. Don't forget to flash your student card for an extra 10% discount!
Address: 51 Middle Road #01-01, Singapore 188959Opening hours: Mon to Thurs (12pm to 9.30pm) | Fri & Sat (12pm to 10pm) | Sun (1pm to 7pm)Tel: +65 6977 9749E-mail: [email protected] | IG
Limited-time event: Ice Cream Making Class
Looking for a fun date idea or family/friend bonding activity? Learn how to make your very own ice cream flavour at Tom's Palette to indulge in at home. There's even an ice cream buffet during class for participants to enjoy unlimited servings of their 27 available flavours.
Participants will also get 10% off waffle and takeaway tubs purchased at the class.
Date: 21 May 2022Time: 10am to 12pmClass Price: S$140 NETT for two pax
Back to top
Save on your next ice cream adventure with the right dining credit card that gives you cash back or helps you earn air miles. Apply for a card with our simple-to-use comparison tool and get rewarded with cash or gifts* while you're at it!
*Rewards may change at any time. Terms and conditions apply.
By Emma LamWith a minor problem of 'itchy fingers' for flash deals and sales, Emma is on a lifelong journey to understand what being financially independent in adulthood means. That said, her inner child is still very much alive… with animals and gaming being her weaknesses.
Food
Guides
Ice Cream
Ice Cream Shops
Supper spots